By Caleb Nelson, Reporter Correspondent
October 17, 2019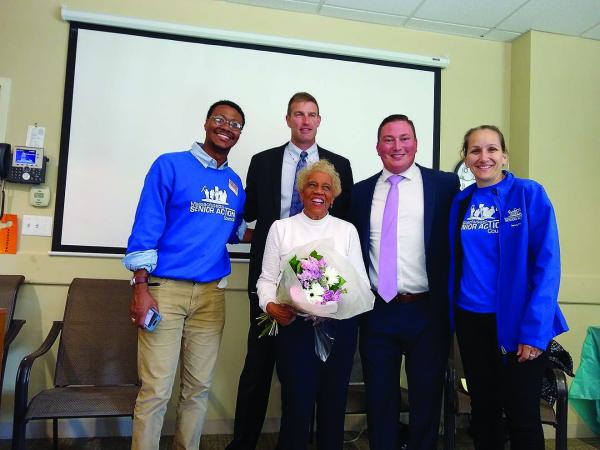 When Gov. Baker signed the budget for next year, he approved a Medicare Savings Program that Mrs. Edna Pruce and her friends at Mass Senior Action Council (MSAC) had worked for five years to create. They had rallied. They had lobbied. They had visited every senator at the State House, and Pruce had testified in front of the Legislature. In the end, her strong and certain voice and the help of her friends inspired life-extending changes to the state health system.
"Edna is a force to be reckoned with," said state Rep. Dan Cullinane, who nominated Pruce for the Massachusetts Commission on the Status of Women's 12th Suffolk District Unsung Heroine award for 2019. "When she is testifying, you feel like you've been hit with a ton of bricks because it's the harsh realities of health care. It's the personal stories of seniors, and it is Edna's kind, but fierce intensity."
The party honoring Mrs. Pruce was moved last Tuesday from the State House to Harbor Health Services on Morton Street. It's an incredible community that you see built in here," Cullinane said while also praising Pruce's tenacious career in healthcare advocacy. She has served the community in many humble capacities since moving to Dorchester in 1975.
"We started from ground zero with a vision," Pruce said during her concise, inspiring, and energetic speech at Harbor Health Services. "My heavenly father has just used me as a vessel to do his work."
Born 86 years ago in segregated Wilmington, Delaware, Pruce remembers her grandfather, born a slave, and her grandmother, a Lenape Indian. Her grandfather was always in his overalls "landscaping for rich white folks," said Edna and he worked and saved to give his children a better life. "He was my first inspiration." Her father worked as a railroad mechanic, and her mother went to Wilberforce College. They both inspired her to seek higher education.
Turned down by every nursing school in Delaware, she attended Howard University. After graduation she joined the Air Force Nurse Corps and went to Montgomery, Alabama, for basic training. There she experienced the bus boycotts of 1955-56. "I was inspired by being there in that moment," she said in interview with the Reporter. "I saw the black people walking. I saw the car pools. And I listened to Martin Luther King Junior every Thursday exhorting people to keep going and not give up."
After living for five years in England, where she got married, she applied to be a nurse at Massachusetts General Hospital. "They knew it was about time to integrate," Edna said, and so she became the first black nurse at the hospital.
While working for decades as a nurse in Boston, Edna also volunteered in various ways to improve her neighbor's lives. She mentored and encouraged first-generation college students, and engaged in improving the health and well-being of her neighbors in Dorchester throughout her life.
The problem that first brought together dozens of the seniors who gathered last week to honor Mrs. Edna was the cost of healthcare in 2014, said Carolyn Villers, executive director of the MSAC. "We often say at Mass Action, we're not going to take it, we take charge." Beginning with a series of discussions about how one person's health care impacts others in the community, members of MSAC fought for updates to the state Medicare system.
One observer explained that health costs ripple through everyone's budget, saying, "I might buy that medication, but that means I'm relying on the food pantry to provide food and that then cuts into my nutrition."
Changes achieved through next year's budget outlays will allow for more seniors to take advantage of day programs at facilities like Harbor Health, where Edna Pruce's party was held. In addition, with its teams of nurses, physical therapists, and health aides, the Elder Service Plan (PACE) helps those who take care of aging family members, and still have to go to work.
"Everybody wants to stay at home. It's nobody's dream to move to a nursing home," said Julie Richer, director of Marketing and Enrollment for Harbor Health, who is raising the efforts of MSAC to keep seniors active and engaged in the policy issues that affect them. "The reality is they cannot do it on their own. They have to have a team in place."
Said Russell Ashton, a MSAC leader, "It's all about the joy of life, and extension of life. What Edna has given me and everyone else in this room is her heart and she's given her soul." He then turned to Edna whose leadership brought him into the Council, and said, "I want to personally thank you for everything that you have done for me to enrich my life, and to enrich the lives of seniors."
Myrtle Huggins met Mrs. Pruce through Northeastern when she first arrived in Boston, and they built a relationship around community activism. "We're taught in the Air Force to be strong," said Huggins, who felt an instant connection to Pruce who also had served in the USAF. "This is my kind of person, because I picked up she was speaking from the heart, and not from the lips."
As a vocal presence at community meetings, Huggins pointed out, Edna offers a trove of information and insight. And young people in the community would benefit greatly from talking with her and hearing her stories. "If you need something and would like to know something this is the encyclopedia book right here."
A secretary with MSAC in Cambridge, an Army veteran, and a peace activist, John Rattlif praised Pruce's heart. "With the strength of her grandparents, she learned to confront the institutional racism that unfortunately still grapples with the soul of this country," he said. "She was in the heart of a system based on hate and designed to keep people from fulfilling their potential. She found a way, and in finding that way, in struggling for the justice that she knew was there somewhere, she developed herself into the strong person that we've been gifted to help lead us."