By Reporter Staff
March 14, 2019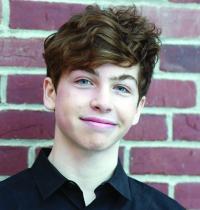 Zehavi Rodriguez, a 13-year-old resident of Dorchester, has been named first runner-up in the Concord Orchestra's Ehlers Young Artist Competition. He will perform at a recital on Saturday, March 23, as the Concord Orchestra presents a program featuring the winners of the competition.
Rodriguez studies with Ronald Lowry at New England Conservatory. He made his orchestral debut at 11 and has played with orchestras in New York and Pennsylvania. Zehavi has won many cello competitions including the Walgreen's National Concerto Competition and the Society of American Musicians. Zehavi has also won competitions for piano, which he has been playing for four years. 
Each year, the Concord Orchestra features a young performer selected by the annual young artist competition. The competition is open to musicians of high school age or younger who live in eastern Massachusetts. The winner is chosen by a panel of orchestra members and the music director.
This year's top winner is Hayden Idson, who will perform Tchaikovsky's "Variations on a Rococo Theme" on Friday, March 22 and Saturday, March 23. Zehavi will perform a pre-concert recital at 7:15 on Saturday evening featuring works by Bach, Brahms, and Saint Saens. Also on the program are Benjamin Britten's "Four Sea Interludes" from Peter Grimes and Stravinsky's "Firebird Suite."
Performances are at the Performing Arts Center, 51 Walden in Concord. Tickets for adults are $25/$30 at the door, $23/$27 online. Tickets for students under 21 are $10. For tickets and information, call 978-369-4967 or visit concordorchestra.com.