By Elana Aurise, Reporter Staff
February 14, 2019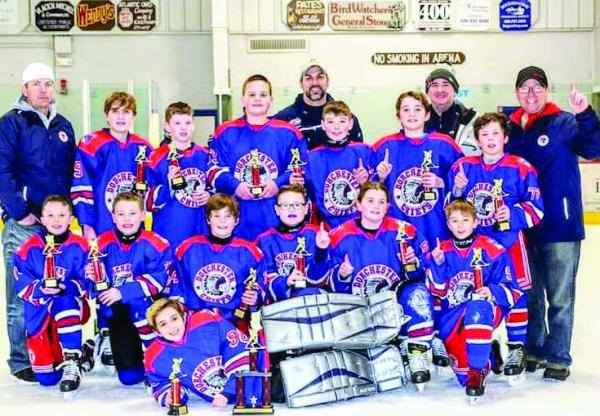 The 14-player Dorchester Youth Hockey Chiefs Squirt B, led by coaches Vincent Conte, Neil Janulewicz, Matt McQuaid and Kevin Donahue, won the Championship at the Cape Cod Classics held last month. The team won every game in the tournament – 3 face-off games with a final 4th – with two shut-outs and over 30 goals on Jan. 21.
The following night – playing with momentum from the night before –the team returned to their home ice, Devine Rink in Dorchester, to win their district game, defeating Winthrop, 10-0.
The roster includes Dominic Conte, Michael Chuairy, John Dasey, Brendan Donahue, Jack Flynn, James Januelwicz, Charlie Kelly, Robbie Leavy, Andrew O'Malley, Richard McGrath, Isabelle McQuaid, Jonathan Neff, Conor Olsen, and Quin Taylor.
Their season started out rough and inconsistent, but with dedication, focus and practice from the players, the coaches, each with his own unique style, were able to help them with the basics – passing, shooting, scoring goals, defense, and working as a team.
"All the things the coaches worked so hard with them on just fell into place," said Nancy Conte, parent of player Dominic Conte. "These kids looked like professionals out there passing, shooting, and scoring. It was amazing to watch how it all came together."
The Dorchester Chiefs will head to the District's State Championship in Springfield in March, hoping to bring home another banner to Devine Rink.