By Jasmine Braswell, Reporter Correspondent
July 11, 2019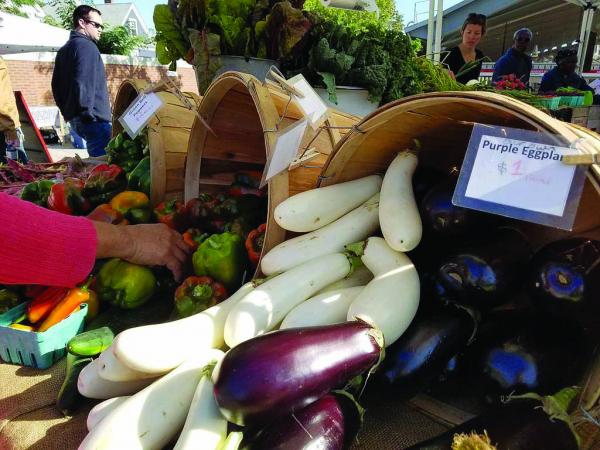 The summer farmer's market season is in full-swing in Dorchester and Mattapan with six weekly opportunities to buy fresh produce, meats and specialty products, often at reduced cost. The markets are up and running at Ashmont-Peabody Square, Bowdoin Street Health Center, Mattapan Square, Norfolk Street, Codman Square, and Dorchester House.
The Peabody Square-Ashmont Farmer's Market launched their annual farmer's market on June 28. Located on the Ashmont MBTA plaza, the market is open every Friday afternoon from 3 p.m. to 7p.m.
Launched in 2008, the Ashmont sale on Friday afternoons has been growing ever since. In 2018 over 480 people interacted with market vendors each week, according to organizers. The market usually has five regular vendors – two farms, a bakery, a healthy meal plan and a taco truck. Along with live music, the outdoor market provides families with access to fresh, local food and creating spaces for friends to come together and enjoy Peabody Square.
"It was just born out of members of the community who were really passionate about food and about helping local farmers," explains organizer Joy Gary, 34, of Dorchester. "They created an opportunity for people to gather and play games and come together in the middle of the summer."
Market-goers can expect to see more diversity in vendors this season, Gary said.
"We are trying to diversify the market in a few different ways. Allowing smaller businesses, startup businesses to have an opportunity to come through," said Gary. "So, there are going to be a few business owners of color that will be coming through. In terms of our entertainment, we've sort of diversified it so that we're having varied types of music and providing opportunities for young musicians to be on stage."
Payment is accepted by cash, cred and debit cards and SNAP/EBT, HIP and some vendors accept WIC coupons.
Another longstanding market is set up in the parking lot of Bowdoin Street Health Center (230 Bowdoin St.) every Thursday afternoon from 1-5 p.m. through October. The Bowdoin Street organizers plan special events e Family Fun Day, a senior celebration and the seafood-oriented, "Fruits of Our Ocean."
Catalina Lopez-Opsina, the Director of the Mayor's Office of Food Access (OFA,) said that the city has noticed that the markets in Dorchester and Mattapan have grown more robust in recent years.
"For the past five years, I've seen markets getting more into programs for the youth, which is a great component," said Lopez-Opsina. "It is a very vibrant community. The Dorchester/ Mattapan region is doing a great job."
Mattapan Square's 13th annual market opens on Sat., July 13 from 10 a.m.- 1 p.m. The market is set up in the parking lot of the Church of the Holy Spirit at the corner of Cummins Highway. Organizers say it serves more than 4,000 residents from the Mattapan and Hyde Park area each season. The Mattapan market also has programs set up like Summer Eats which is a Project Bread initiative for kids and teens 18 and under.
There are two additional markets operating in Mattapan. The Fowler Clark Epstein will be the site of a Friday farm stand starting on July 19 and running through Oct. 18. The farm's market will be open from 3-7 p.m. each week. On Thursdays, there will be a farm stand operating in front of 1575 Blue Hill Ave. from 1-4 p.m.
On Saturdays, the focus shifts to Codman Square, where a farmer's market is set up in the parking lot of the Codman Square Health Center (637 Washington St.) from 11 a.m.- 2 p.m. This year's summer season launched in June 29. Launched in 2008, the farmer's market was started because residents were troubled by the lack of healthy food options in the community. The market works in tandem with the health center, which continues to "prescribe" fruits and vegetables to patients as a part of their care plan. Patients can use vouchers at the market as part of the Vegetable Prescription Program, which launched in 2010.
Lopez-Opsina added: "We are granting some of the farmer's markets money to make summer meals there, so all kids (in the BPS system) can go in and get free lunches." Some youngsters, she noted, "lack real food because they rely on the schools to get the meals. Now we are tackling that at the farmer's market and the market is sponsoring meals there. We have 5 to 7 markets that have agreed to do this."
On July 16, the DotHouse Health will open their Tuesday farmer's market at 1353 Dorchester Ave., which is behind the Dorchester House Health Center's WIC office. Partnering with Revision House Urban Farm, they will sell a great variety of produce including many Asian vegetables that are used in many cultures. They will accept card, cash and coupons. It runs through October 8.
Finally, on Wednesdays, shoppers can stop by the ReVision Urban Farm at 1062 Blue Hill Ave. from 2-6 p.m. The stand, which opened in June, will stay open on Wednesdays through Oct. 2.
More information about farmer's markets across the city may be found online at boston.gov/food.