By Katherine Martin, Special to the Reporter
July 3, 2019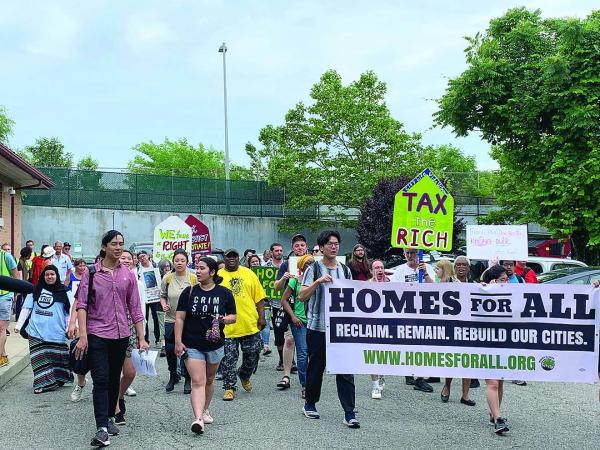 About 200 people gathered at VietAID Community Center in Fields Corner last Saturday afternoon to discuss a Boston-wide housing plan catered toward residents facing displacement.
This was the third assembly in a series of five organized by Right to The City Boston, a coalition that includes ten groups whose neighborhoods are being impacted by rising housing costs and evictions.
The event kicked off at 11 a.m. with five residents from various advocacy groups taking turns reciting the "Homes For All" core principles in different languages. Throughout the day, interpreters were available for non-English speaking community members. In the crowd, many returning activists and some newer faces represented a number of Boston's neighborhoods. Posters that hung on the walls included phrases such as, "Don't sell out our community to billionaire investors," and "We have the right to the city."
These posters were later carried to a rally at the site of the forthcoming mixed-used Dot Block development in Glover's Corner.
"We are marching over there and saying we don't want this to happen anywhere else in this city," said Helen Matthews, communications manager for City Life/Vida Urbana, one of the organizations that planned the event. "What we do want is a master plan for Glover's Corner that calls for 65 percent of new housing in that area to be affordable at real income levels. Not 100 percent AMI (Area Median Income), but real AMI levels."
James Michel, co-founder of Boston Clean Energy Coalition began attending meetings because he felt he needed to learn more. "I have spent the last five years or so focusing on climate change, but it's all connected. It's the same power we are fighting against," he said.
Attendees broke off into groups to further discuss the Boston People's Plan's three main objectives: establishing anti-displacement zones; ensuring that at least half of new housing is affordable; and empowering neighborhoods in the face of development.
Under its Inclusionary Development Policy (IDP), last updated in 2015, the city mandates that buildings with more than nine units that need zoning approval must designate at least 13 percent of their on-site units and either 15 or 18 percent of off-site units as "affordable." In some cases, developers are allowed to pay into an IDP fund that goes toward affordable housing production.
The affordability standards are federally determined and include a region larger than just Boston proper, which critics point out includes income levels not reflective of many neighborhoods.
Meetings are under way now to reassess the affordability requirements for Boston. There is also a city-backed effort to apply IDP standards to projects that do not require zoning relief, which would result in more affordable units.
At a Dorchester Not For Sale group meeting in February, advocates asked Mayor Martin Walsh to commit then and there to the 65 percent standard in Glover's Corner.
Walsh said at the time that practical limitations like precipitously dropping federal funding and tax-dependent city revenue meant he could not honestly make that promise.
"Sixty-five percent affordable — a great goal, a brilliant goal," he said, later adding: "The answer is yes, but the reality isn't yes. This is where honest conversations have to happen. We'd like to say zero displacement, but there's no way any person can commit to that. I can't commit to 65 percent affordable, because how do you get there?"
Reconvening after an hour of discussion and lunch on Saturday, the groups summarized their conclusions. Community members waved green sheets of paper in the air, signaling their agreement to the demand for a board of community members that will have veto power over developers in the review process. They agreed that they need to be able to say, 'We don't want this if it doesn't meet community needs and standards.'
Another policy proposed at the meeting was to change the value and definition of AMI.
"We need to align the different neighborhoods because what's affordable in Roxbury isn't affordable in Mattapan or East Boston," said Darnell Johnson, coordinator of Right to The City Boston. "We are trying to find that through line that we can say, 'When you're coming to build in Boston, affordable housing and equitable development mean this to Bostonians city-wide.'"
Organizers founded the rally to reflect the common needs and demands the communities share. "This is not just an isolated incident to Dorchester. … This is a city-wide crisis that nobody has yet to address with real solutions," said Andres Del Castillo, a resident of East Boston and community organizer for City Life/Vida Urbana.
"In a lot of the planning meetings our communities are left out whether strategically or systematically, through complete lack of language access or appropriate outreach, so these moments are really important," Del Castillo said, adding, "We're also modeling a process for the government. We're able to say this is what it should look like when you make a plan for the city because this is not what it looks like anymore."
Along the march to Glover's Corner from VietAID, participants chanting, "Luxury condos, they're no good. Get them out of our neighborhood."