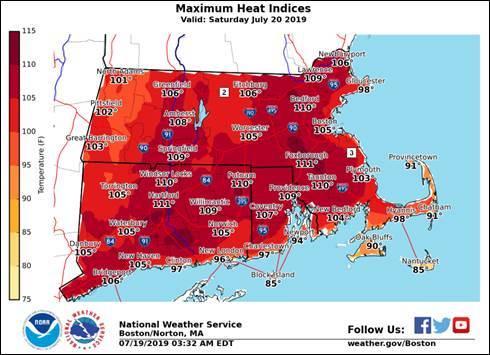 A heat emergency is currently in effect in the city of Boston through Sunday evening with daytime temperatures on Saturday expected to go well past the 100 degree mark across the region.
Boston community centers will be open to anyone who needs cool shelter, according to Mayor Martin Walsh, who said the emergency would kick in at noon on Friday. The city's pools will also be free of charge this weekend— although pool-goers will need to fill out a form.
According to an alert issued by the state's Emergency Management Agency: "The National Weather Service (NWS) is forecasting excessive heat and humidity to begin [Friday] afternoon, peaking Saturday and Sunday afternoons. Little cooling is expected to take place in the overnight hours, with lows in most areas only dropping to the mid 70s to near 80.
"Heat index values could reach 107 to 112 degrees on both Saturday and Sunday afternoon for most of the region, with values between 96 and 102 degrees across Berkshire County, Cape Cod and Martha's Vineyard. This level of heat and humidity is dangerous and relatively rare for this part of the country."
More info is available here.