By Elana Aurise, Reporter Staff
April 18, 2019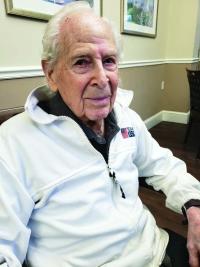 Standish Village resident Herbert ("Herbie") Pass celebrated his 101st birthday with family, friends, and Standish staff on Fri., April 5. He was presented with a "Lifetime Achievement Award," which is given out once a month to a resident at the Lower Mills assisted living facility.
Mr. Pass, a lifelong Bostonian, was born in 1918 and raised with his siblings Albert, Nettie, and Jeannie in Mattapan by their parents, Morris and Bertha. He attended Dorchester High School for Boys and enlisted in the US Army shortly afterwards.
A soldier by day and musician by night, he joined the Army Band where he played saxophone and clarinet. When Herbie he returned, he worked in several sales positions including co-owning PPN, Inc., a company that sold adaptive clothing for the elderly. In the midst of all of that, he fell in love with a woman named Trudy and asked her to marry him. They built a life together and had a daughter named Linda, who made him a proud grandfather to Tina and Georgie.
As a Standish Villager, Pass enjoys participating in programming and has been known to dance in the facility's Zumba class. He is also a passionate Red Sox and Patriots fan.