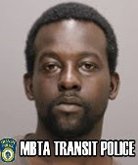 State Police report arresting Dwyarrn Burton, 26, on charges he randomly attacked a woman on the Neponset Trail near Ryan Playground in Mattapan last month.
Burton was already facing charges for an August 5 groping attack at North Station on the Green Line.
State Police report a break came when a police officer in Lincoln alerted them that he had had a run in with a man matching Burton's description and was able to provide his name.
On October 3 Burton was scheduled for a court appearance for an unrelated case stemming from an Aug. 5, 2019 arrest for indecent assault and battery. On that same date Troopers began a search of areas Burton was known to frequent and, at 2:25 p.m. on Oct. 3 they located him walking on a sidewalk. Burton was arrested on the court warrant and transported to an MSP barracks, where he was interviewed about the September 17 Mattapan assault. During the interview, the MSP detectives gathered additional evidence. They subsequently charged Burton with the Mattapan assault.

Information developed during the investigation indicates that Burton and the victim did not know each other. Evidence indicates he approached and asked her for a cigarette, and when she did not give him one he attacked her.
Transit Police report the North Station incident was similar: Burton tried to talk to a woman on the trolley and, when she showed no interest in talking, he followed her off the trolley and indecently attacked her.