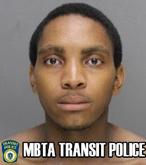 The Transit Police Department reports arresting a man who took out his anger at the way his friend wasn't allowed to board a Mattapan Line trolley at Ashmont with a bicycle by first threatening the driver and then punching and slapping a 77-year-old man who tried to defuse the situation.
Police say the man with the bike and Aaron Callender-Maloney, 26, tried getting on a trolley shortly after 7 p.m. on Saturday, but the driver said bicycles weren't allowed on the 1940s-era car. The bicycle guy left, but Callender-Maloney stayed on, getting so hot under the collar he took his shirt off:
"Callender-Maloney threaten the operator as the trolley continued on stating 'Don't think I'm going to let that slide.' At one point the male removed his shirt and took a position close to the operator. At this time a 77 year old male victim attempted to calm Callender-Maloney down and diffuse the situation. Callender-Maloney responded by striking the victim with a closed fist in the face and then slapping him twice."
Police say the driver radioed to request officers meet her car at Butler, which they did, but Callender-Maloney ran out of the car as soon as they doors opened and past the officers. But, police say, officers began cruising the area and soon found Callender-Maloney, still without a shirt on, several blocks away on River Street. They then arrested him on a charge of assault and battery on an elderly person, police say.