By Daniel Sheehan
July 30, 2019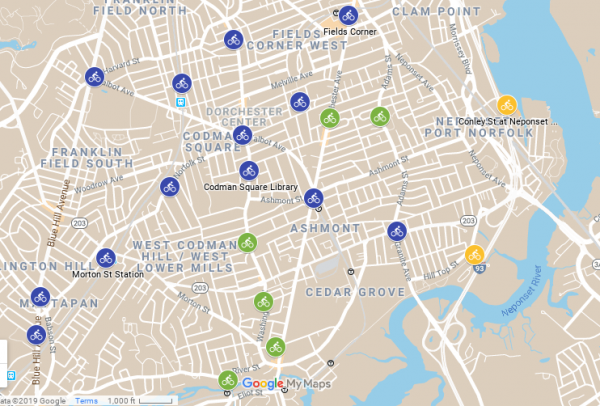 Fifty new BlueBike stations are coming online this year in the city of Boston, several of which have opened recently in Dorchester and Mattapan. After plans for a new wave of expansion were announced in May, a community process helped determine the locations where new BlueBike infrastructure was most needed.
A handful of stations have already opened this year, including at the Shawmut and Ashmont T stops. According to the City of Boston website, seven additional stations are set to open this year at the following locations in Dorchester and Mattapan: Uphams Corner Health Center; Dorchester Avenue at King Street; Adams Street at Lonsdale Street; Fuller Street at Washington Street; Washington Street at Walsh Playground; Richmond Street at Dorchester Avenue; and River Street at Central Avenue. Two additional BlueBike stations, at Conley Street on the Neponset Trail and on Hallet Street at Gallivan Boulevard, are pending DCR approval according to the website.
"The Bluebikes system is a terrific resource that promotes a healthy and emission-free transportation option in our City, and I'm pleased that this expansion will make this service convenient for more Boston residents and visitors," said Mayor Walsh in a press release. "BTD and neighborhood residents worked together to determine the best locations for the new bike share stations and I look forward to more communities using Bluebikes later this year."