By Reporter Staff
January 10, 2019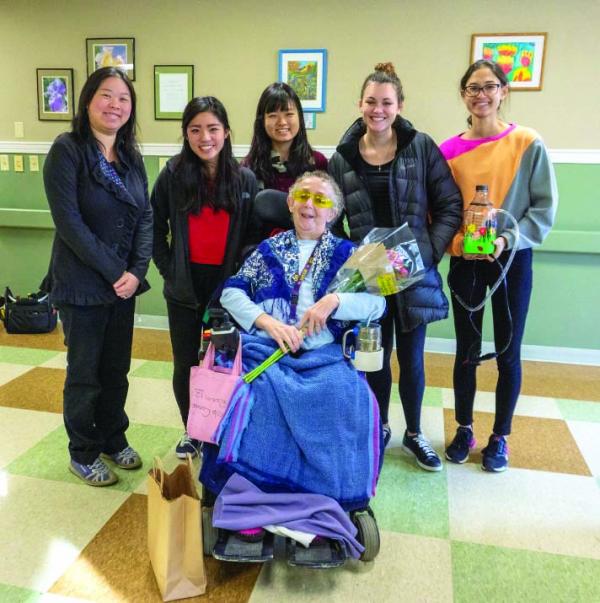 The Boston Home resident Sarah Connor, along with MIT students, co-designed a powered watering device recently. Over the course of a semester, students Kalyn Bowen, Caroline Jordan, Jennifer Lu, and Sara Wilson worked with Sarah to design and build the device.
"I always had a garden at my home and I love taking care of the many plants at The Boston Home, it keeps me busy and out of mischief," said Connor, who has multiple sclerosis and is legally blind.
She has difficulty filling the watering container.
"To make the watering process easier for her, we explored solutions and tested different sprays," explained MIT student Jennifer Lu."We created a tank that attaches to the back of Sarah's wheelchair. The tank has a powered nozzle she can hold."
The MIT students are enrolled in Principles and Practice of Assistive Technology, a project-based course. They work closely with a disabled person to solve a problem. Together they design a device, a piece of equipment, or an application that improves the lives of immobilized people and enables them to live in a more self-reliant way. The co-design approach empowers end-users to fully participate in the project.
Don Fredette, Adaptive Technologist specialist at The Boston Home and guest lecturer at MIT, said the partnership with MIT allows TBH to be on the cutting edge of assistive technology, and to work with folks who develop new prototypes.
"New technology improves the quality of life for our residents," said Fredette.
The Boston Home has a long history of working with MIT. In 2010, TBH resident David Hatch, a retired GTE Corporation engineer who has MS, collaborated with MIT student William Li on a robotic wheelchair operated by voice commands. The product is being developed at MIT. In 2014, TBH resident Margaret Marie co-designed the InstaAid mobile nurse call application. InstaAid provides an easy way for residents to call for help, regardless of their limitations. InstaAid won numerous awards, and it can be downloaded for free from the app store. Sarah Connor is now part of the TBH-MIT partnership.
"I love my new watering device," said Connor, who attended the final presentation of the product at MIT's Stata Center. "It was a highlight for me. I can brag to my engineer son that I roamed the campus of MIT."