By Daniel Sheehan, Arts and Features Editor
September 26, 2019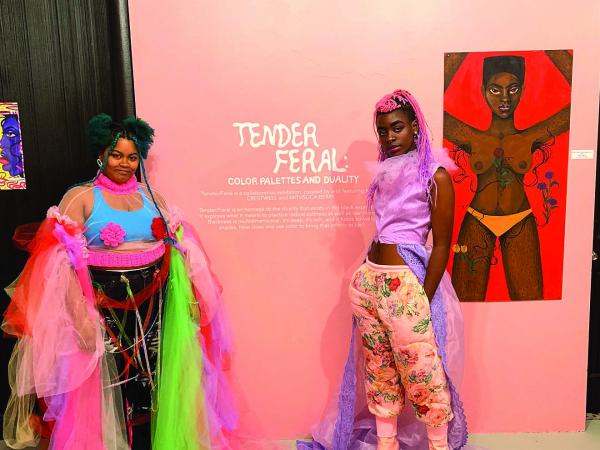 A new exhibit from two black, nonbinary/genderqueer artists on display at the Dorchester Art Project explores the "duality of blackness" through the medium of color. "Tender/Feral: Color Palettes and Duality" is a collaborative show curated by Mithsuca Berry and Kenn Crestwell, two Boston-based artists.
Berry told the Reporter that their desire to host a show stemmed from exploring the art scene in Boston. Taking in shows and meeting various artists and creators prompted a question: "Why don't I see more people like me in these spaces?"
Berry and Crestwell's response is a collection of pieces that use vivid colors to illustrate the many different shades and types of blackness. Berry pointed to commonly unfair expectations or misrepresentations of black and brown folks to explain the idea behind the show's title:
"There's duality to the black experience that not a lot of people recognize. They either see black people as too sensitive about certain topics or they see black people as too aggressive in certain dynamics. So like, the 'Tender/Feral' energy comes from just being able to be both at the same time and being able to claim both words and shift between both extremes, because sometimes you do feel feral, you do feel crazy, you feel like the world is challenging you and you feel unhinged, but then there are times when you have to practice radical softness and be kind to yourself and take care of yourself. So, it's just being able to accept both the feral side of yourself and the tender side of yourself."
Crestwell, who is studying illustration at Lesley University, often draws figures and characters with blue, green, or orange skin. This approach subverts the viewer's expectations about race and colorism, they explained.
"I've always loved drawing people, but being black I feel like I had a lot of racial dysphoria growing up, and so making the element of race into a fantasy element...it takes away everything that makes it sort of a weight to carry."
In addition to fostering those conversations about blackness, Berry and Crestwell hope other queer people of color see themselves represented in their art. "Having genuine representation is something that people feel like hasn't been moving forward as authentically as they wish it would," said Berry.
Crestwell concurred, arguing that perspectives like theirs are rarely depicted in media, let alone in art galleries across the country. "I just want people to be inspired by this...not just us being black and femme, but us being individuals and not just telling a story that's palatable for white audiences."
"Tender/Feral: Color Palettes and Duality" will be on display at the Dorchester Art Project through October 12, with gallery hours on Saturdays and Sundays from 12-6 p.m.