By Katie Trojano, Reporter Staff
September 5, 2019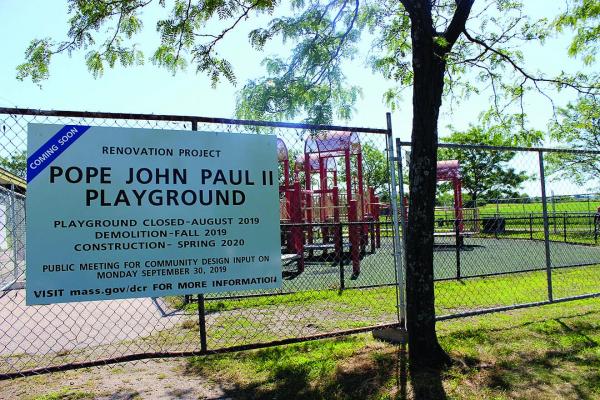 Updated: (Sept. 30)— The DCR plans to hold a meeting on the playground project tonight— Mon., Sept. 30— from 7-8 p.m. at the Leahy-Holloran Community Center on Worrell St., Dorchester.
The Department of Conservation and Recreation (DCR) closed a playground inside the Pope John Paul II Park in Neponset as it prepares to begin work on modernizing the play area. The rest of the 72-acre park will be open to the public while a small area containing the children's playground remains fenced off.
The playground will be closed due to site preparation work, which includes the construction of fencing around the park in anticipation of the demolition of the current facility and construction of a new playground. Playground demolition is will continue through the fall of 2019, with construction set to begin in spring of 2020.
Olivia Dorrance, a spokesperson for the state agency, said that DCR is "working to complete conceptual designs of a new playground that will provide residents and visitors of many ages and accessibilities increased outdoor recreation opportunities."
DCR will facilitate a public meeting that is expected to take place in the coming weeks to present preliminary design plans and anticipated 
demolition and construction schedules.
Rep. Dan Hunt — who has been pushing for the renovation project, said, "We're shooting for a meeting on Sept. 30th in the evening, pending [confirmation] when we approve a location."
According to Rep. Hunt, the reconstruction of the playground is approved for "up to half of a million dollars," and will come from the Environmental Bond Bill, which Rep. Hunt and Rep. Nick Collins supported. The Environmental Bond Bill is an act passed in 2018 promoting climate change adaptation, environmental and natural resource protection and investment in recreational assets and opportunity.
Once the location, date and time of the meeting is finalized DCR will invite the public, local officials  and stakeholders to attend.
Pope John Paul II Park, which stretches along the Neponset River, is a 72-acre reservation that offers picnicking, athletic fields, trails and more. It opened in 2000 on what was once a former landfill and drive-in theatre.