By Kimberly Atkins, WBUR Senior Correspondent
April 4, 2019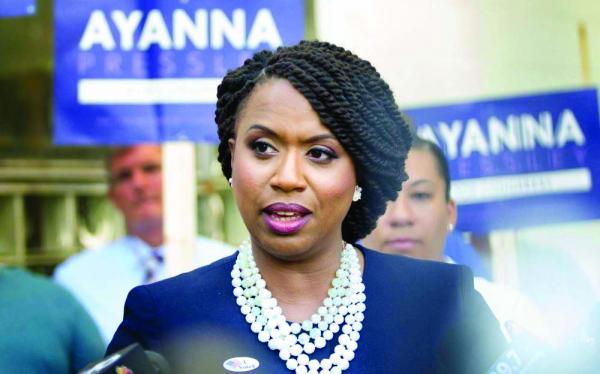 US Rep. Ayanna Pressley is pushing back against a new Democratic Congressional Campaign Committee rule that penalizes pollsters, strategists, and other campaign vendors if they work for Democratic candidates challenging incumbents in primaries.
The Boston Democrat, who unseated longtime Rep. Mike Capuano in the Bay State's 7th District last November, said the rule "slams the door" on future campaigns just like hers, making it harder for young candidates and activists to advance in the party — particularly women and people of color.
"I think it can certainly contribute to what are already cultural and institutionalized barriers to get us to closer to achieving leadership parity, both in gender and in race," Pressley told WBUR. That negative impact will be felt "on both sides of this, both on the candidate side and on the vendor side," she said.
Pressley said that even before the rule, some vendors were told "not to come anywhere near" her campaign lest they face retaliation from Democratic Party leaders. She added that she was grateful for the "brave" staffers who joined her campaign anyway, and says the success of primary challenges like hers and New York Rep. Alexandria Ocasio-Cortez's should serve as a valuable model for other Democratic candidates to follow rather than as a problem that needs to be stifled.
Messages left with the DCCC for comment were not returned Saturday. But in a statement to Politico, a spokesman said the rule was meant to fulfill a campaign vow by DCCC chair Rep. Cheri Bustos to protect incumbents.
Pressley said she was proud that her campaign drew a large number of first-time primary voters and produced a surge of support from Latinx voters and college students. She says she wants other candidates to duplicate that success in other districts, particularly those made up of underserved communities.
"We accomplished something unique and special," Pressley says. "But that is not anything that I want to be an anomaly. This is what I want to be more of the norm."
Members of the Congressional Progressive Caucus said the proposed rule would create a "monopoly" of campaign vendors with DCCC approval, and "blackball" others who work for other Democrats.
This story first appeared on the WBUR 90.9FM website on March 30. WBUR and the Reporter have a partnership in which the two news organizations share content and resources.