By Daniel Sheehan, Arts and Features Editor
August 15, 2019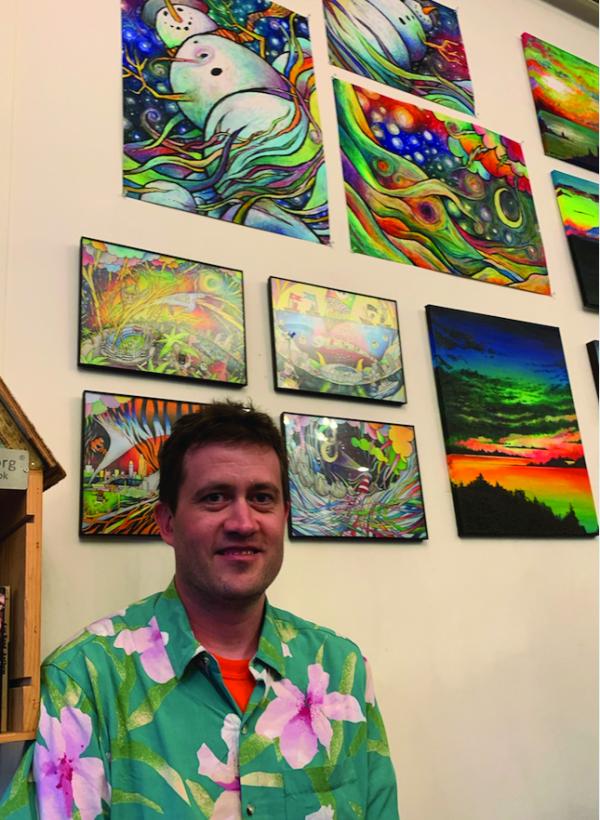 A new art exhibition is adding a pop of color to home.stead bakery & café in Fields Corner. Nick Carlisle, a Boston area-based artist who goes by the name Nicklebones, is behind the current art installation at the cafe, which formally opened with a reception last Thursday and will remain on display through the end of the month.
Carlisle's work is characterized by his preference for bright colors, through which he depicts landscapes, animal portraits, and psychedelic themes, using a color gradient that spans the rainbow. He describes his style in three words: "color, chaos, and flow. I try to incorporate elements of those into my work, sometimes resulting in a kind of psychedelic feel, which I hope invites the viewer to see the subject from a fresh perspective."
While Carlisle's palette remains similar across most of his work, his subject matter is varied. Some of the paintings currently on display at the Fields Corner cafe feature mountaintop vistas and other scenes of nature, many set at either dawn or dusk, and all painted in rich, saturated hues. Others depict portraits of dogs and cats set against amorphous backdrops.
"I love doing landscapes and sunsets because of the vivid colors and their calming, pastoral nature," explained Carlisle. "I am also drawn to animals because of the way their fur flows, and I find that their bodies and facial features can convey a lot of expression, despite the fact that they lack such human abilities to smile, frown, laugh, et cetera. In general, I'm largely inspired by classical impressionist artists whose works carry a different meaning depending on how closely the viewer stands from the artwork."
Original artwork and prints are available for purchase at home.stead bakery, as well as on at the artist's website, nicklebones.net.