By Daniel Sheehan, Arts and Features Editor
September 25, 2019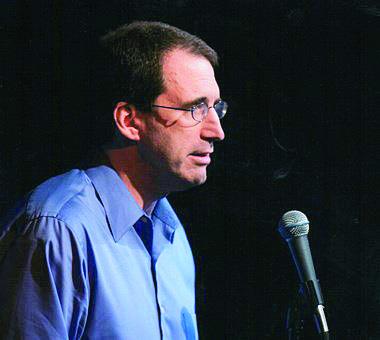 In footage from a 2011 episode of The Steve Katsos Show, comedian Rich Gustus can be seen on the mic performing a stand-up set with the aid of a cane. After explaining how he had been diagnosed with multiple sclerosis, he then proceeded to work elements of his condition into the punchlines of several jokes.
"It's a degenerative disease, which I didn't understand," he says at one point. "I mean, hey, I've done stuff in my life I'm not proud of, but I never thought of myself as a degenerate."
The bit demonstrates how Gustus's feelings about his disease have changed since the diagnosis, as has his capacity to find humor in unexpected places. "I struggled with it for a while, you know, feeling like it's not that funny," he told the Reporter. "But it is when you're breaking down different phrases and things like that. You can do a lot with it."
The relentless effects of MS have now begun to limit his motor skills, his speech, and his memory. A resident of The Boston Home, the 53-year-old Gustus is a constant source of laughter for his peers and caretakers alike. He's happy to be back in the city, a few miles down Dorchester Avenue from the now-shuttered Emerald Isle, where he hosted a comedy open mic for years.
In the face of a debilitating disease, the line between tragedy and comedy can blur: "They're very similar," said Gustus, a phenomenon that he has introduced to students throughout his life as a teacher of comedy.
"I taught a comedy class for years. People would come to the class, and I'd try to get them to talk about their lives, and sometimes the most uncomfortable ones had the most potential for jokes," he said. "Humor can come when you least expect it."
Gustus will be back on the mic once more this Thursday evening (Sept. 19) at 6:30 p.m. at Florian Hall as part of a Comedy Night Fundraiser honoring him and benefitting The Boston Home. He will be joined by a few of his longtime peers from the Boston comedy scene: Tony V, Christine Hurley, and Artie Januario, among others. The night will include a buffet dinner, a cash bar, and several raffle prizes, including Dropkick Murphys tickets and a stay at a Pebble Beach resort property.
But more importantly, it will give Gustus a chance to perform a set, something that he hasn't done in more than a year. "It'll be nice to get back into it," he said. "I'm excited to see those guys again."
Tickets for the show sold out quickly, with sales and donations already surpassing The Boston Home's goal of $25,000. As MS can affect vision, all funds will go toward bringing Boston Home residents higher quality HD television, with built-in voice control capabilities to make watching TV easier for them.
To learn more about The Boston Home or to make a donation, visit thebostonhome.org.