By Jasmine Braswell, Reporter Correspondent
July 18, 2019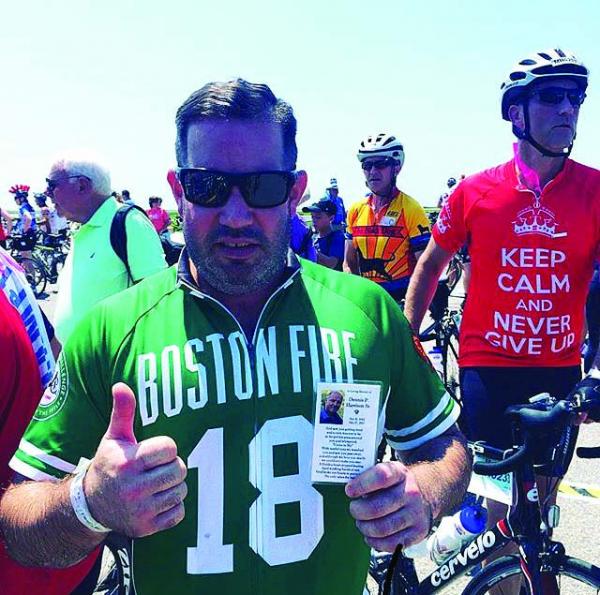 The Pan-Mass Challenge (PMC)— set for August 3 and 4— is expected to draw more than 6,700 cyclists in its 40th year, including a delegation from Dorchester, for the 2-day, 192 mile route from Sturbridge to Provincetown.
Founded in 1980 by executive director Bill Star — who still rides each year—the event has so far raised $654 million for adult and pediatric patient care and cancer research. The PMC goal is a cure for all forms of cancer.
Last year, the PMC donated $56 million to Dana Farber Cancer Institute's through the Jimmy Fund. The 2019 fundraising goal is $60 million. One hundred percent of donations each rider raises go directly to the fight against cancer. The event generates 55 percent of the Jimmy Fund's annual revenue and is Dana Farber's largest contributor.
Jody Adams, 62, a chef who has restaurants in the Back Bay and Fenway and lives near the Shawmut T station was inspired, and awed, when, spending her summers in Barnstable Village on Cape Cod, she watched the streams of bikes come through each year.
"It was just an amazing experience to watch and I wanted to be a part of it," Adams told the Reporter. She will be bicycling along the Sturbridge to Provincetown two-day route, one of twelve routes taken by riders aged 13 to 88. The first day is the most grueling— with 100 miles of roadway on the schedule. The second day is a 90-mile ride to the finish.
Joining the cause isn't just a seasonal training regimen for Adams. "It's not just for those two days, you know, it's the entire year," she said. "So, it brings a real focus to the cause at hand and you feel like you're part of a community that is all working towards this one goal of fighting cancer."
Her sister Eliza, who died of metastatic breast cancer in 2017, is her personal inspiration. They rode the PMC together up until her death. Eliza focused on finding a cure during her last years and Jody plans on paying homage to her hard work by continuing to compete each year.
"Anything that I can do to contribute to that mission, here's what I'm going to do," said Adams. "And I think that, yeah, that's what you can do for a loved one."
Aaron Sorrell, 35 of Lower Mills, is a part of Team Kermit, which rides in memory of Jared Branfman, a friend of the team. Proceeds from their supporters go to the Jared Branfman Sunflowers for Life Fund for Pediatric Brain and Spinal Cancer Research at the Jimmy Fund. Kermit the Frog was Jared's favorite childhood character.
Sorrell, who is married to the Reporter's Maureen Forry-Sorrell, said that training for the bike-a-thon is a serious commitment. "For me I'd say one of the hardest parts is just being somewhat stationary that whole time you're still pedaling, but also sitting down and that takes some practice and you have to train your body and your mind to get used to it," said Sorrell. "But it's important research that really needs to be done. And I wanted to do my part in terms of helping."
More than 950 PMC riders are either cancer survivors themselves or they are currently patients.
Anthony Magliozzi, 31, of Lower Mills, is a survivor of Rhabdomyosarcoma, which tries to mimic muscle cells in the body. "I had to get chemo and radiation and I had like four surgeries," he said. "I was in the hospital for a month, it was a long, long process. So, once I got over that I started riding bikes and then I heard about the PMC and I signed up in 2012."
The community of survivors is a big part of what keeps Magliozzi coming back. "That's why I started doing it and that's why I keep doing it. At one point I was so weak and now I'm able to do this and that. That's what I love about it most," he said.
Dennis Paul Harrison Jr., 40, of St. Brendan Road is a member of Team Boston Fire. This will be his third year on the squad, which began as a group of seven firefighters connected to a fitness program that has been growing in support of fighting for occupational cancer. They ride because members of their unit are dying from cancers related to their jobs.
"Sometimes things don't work out, but I feel like the Pan Mass Challenge and the Boston Fire is a great way for people who are looking for something that's worthwhile to contribute and be a part of an organization that is doing something to combat cancer," said Harrison.
The group of Dorchester riders includes Jody Adams, Robert Allen, Eric Bucca, Martin Burke, Michael Christopher, Briana Colantonio, Kevin Dowd, Ernest Edwards, Brian Feran, Michael Ferraro, Cory Finn, Adam Gallagher, Dennis Harrison, Kristyn MacFawn, Anthony Magliozzi, Elizabeth O'Brien, Loren Owens, Chris Parkin, Gerald Powers, Gene Roundtree, Clifford Rust, Aaron Sorrell, Joseph Tack, Cara Veilleux, and Drew Wallace.
For more on how you can help, go to pmc.org.