By Reporter Staff
July 18, 2019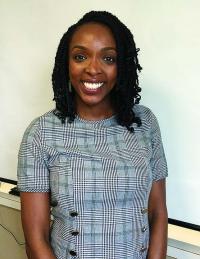 Uphams Corner Health Center has appointed Dr. Shelly Taylor as the facility's new dental director. She recently moved here from Florida where she was also a dental director at a health center.
In this new leadership role, she will have oversight of the day-to-day operations of the Oral Health Program and provide clinical and preventative dental care to both adult and pediatric patients of the health center. Additionally, she will provide clinical oversight and instruction to fourth year dental students who rotate throughout the clinic.
Dr. Taylor earned her Doctor of Dental Medicine Degree from the University of Florida, College of Dentistry, and her Bachelor of Science in Psychology, from the University of Florida. She earned an Advanced Education in General Dentistry Certificate from the University of Tennessee College of Dentistry. In 2016, Dr. Taylor served as the Triage Dentist for the Mid-south Mission of Mercy and played an integral role in providing free dental care to over 500 patients. Dr. Taylor is an active member of the American Dental Association. The Uphams Corner Dental Clinic is located at 636 Columbia Rd. in Dorchester.