By Daniel Sheehan, Arts and Features Editor
February 13, 2020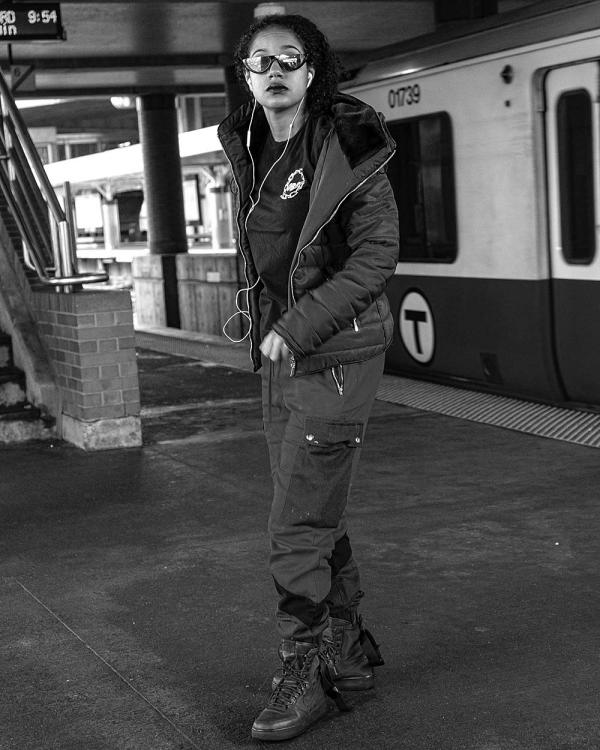 When describing his personal philosophy, the Dorchester-based writer and photographer Jourdan Christopher says the idea of "aloneness" forms "the basis of all his artistic forms. I've always felt like people were distant from me."
In a recent interview with the Reporter, Christopher explained: "I felt like I needed to go out and live life to understand the point of connection with other individuals, when in actuality my humanity in myself is my point of connection."
Recognizing that aloneness in, even in a bustling city environment, is what informed Christopher's street photography series "Strangers in Boston." The photographs – Christopher estimates he has taken at least 70,000 since moving to Boston in 2014 – depict Bostonians in everyday situations: riding the T, crossing the street, loitering outside storefronts. The way he sees it, each of his subjects shares a commonality. "All of these individuals are alone together," he explained. "Once I figured out every person has an aspect of aloneness, I started to connect to the individual. Even in groups, there's usually one person I'm targeting. I look to capture moments where I see the visual representation of that aloneness."
Jourdan Christopher
Today, the 28-year-old Detroit native is a full-time freelance photographer based out of the Fairmount Innovation Lab in Uphams Corner, a workspace located just a stone's throw from where he lives. As he tells it, his career in photography was nearly derailed at the outset. He has loved the artform since his mother gave him a camera for his 16th birthday; he became "the guy who people would ask to take a picture" in high school. As a freshman at Bates College, he decided photography was what he wanted to do in life, and chose it as his major. But after turning in his work from an assignment in which he shot scenes around town, a professor told him he didn't have what it takes. So he switched his major.
After graduation, Christopher moved to Boston and took a corporate sales job selling software. He soon learned to hate what he was doing. Frustrated and feeling lost, he regularly would walk all the way home to Brighton from the Back Bay just to blow off steam. One day on his walk home, he bought a camera "because that was the last time I remembered being happy." Soon his lunch breaks became creative sessions and his walks home turned into photowalks. 
"I started re-teaching myself photography, just by having a camera in my hand and shooting as many different things as I could," he said. "Then I starting sharing photos on my Instagram page, and people started resharing them. So I just kept shooting."
After a while, Christopher began to see street photography as "a way of living. It's figuring out how to take an environment that's completely foreign and remove myself from the equation; just be a silent observer."
He found that he enjoyed shooting commuters in transit, a time when people tend to subconsciously put their guard down. But being an anonymous observer is difficult in tight spaces like a Green Line train, where, Christopher said, "it was hard to be discreet with it. It started to be this game where it was like I was a spy and the goal was not to interrupt the moment, just to capture the moment."
After a while, his hobby began to cause tension at work. He recounted how once his boss chastised him for editing photos on his lunch break. One day, after registering the third of "three strikes of racist macro-aggressions" from a co-worker, Christopher packed his things and walked out.
"Two years had already gone by in the blink of an eye, but when I walked out that day, I was a photographer," he said. "What did I have? I had a momma who believed in me."
From then on, Christopher spent his days riding the train to "every single stop" and exploring every neighborhood of the city. As the concept for "Strangers in Boston" took form and he found photography work for a local grassroots movement, Mass Action Against Police Brutality, his hobby gradually became a profession. 
In 2016, Christopher was introduced to Liora Beer, founder of the Fairmount Innovation Lab, an art incubator and co-working space on Columbia Road. Beer, who passed away in March of 2018, took him under her wing. 
"As a lowly starving artist, it has been a struggle trying to find space to create out of. But we've been keeping this space alive, and we want to keep building it," he said, noting that an incoming podcast lab will look to attract more creatives to the workspace. "This space is for Dorchester." 
After moving to the neighborhood in 2017 and setting up shop in the space's photo lab, Christopher's work continued to flourish, and his covert approach to the artform began to change.
"Shooting in Dorchester has been pretty tricky for me. There are not too many instances of an area congested enough for me to not be seen, so it's a place that pushes me out of my shell of trying to be invisible and into a mode of interacting with my subjects," he said.
After a certain encounter with a subject on Morrissey Boulevard, Christopher realized he'd "been doing street photography the wrong way – trying to sneak and be unseen rather than just being me. My time in Dorchester allowed me to shift from trying to take images from people to trying to make images for people. I'm never trying to sneak or steal anymore; it's a collaboration between me and my community."
That shift in approach compelled Christopher to refocus his lens and train it in "a new direction." An upcoming show at the Haley House Bakery Cafe in Roxbury, which will kick off with an opening reception on Fri., Feb. 21, from 6 p.m. to 10 p.m., will feature selections of Christopher's newer work and help revitalize the space, which recently reopened after a year-long hiatus.
"The theme of this show is in alignment with Haley House's resurrection or rebirth," noted Christopher.
Following the show, he said he's planning to reboot his "Strangers in Boston" series that had fallen dormant recently by pulling some other street photographers into the project and approaching the concept with fresh eyes.
"What's weird is that for a long time, the way I had felt about "Strangers in Boston" is that they're not the strangers;' I'm the stranger," he said. "When I started shooting in Dorchester is when I started to feel less like a stranger in Boston."
While he now considers Dorchester "his neighborhood," Christopher isn't quite ready to call it his permanent home. Still holding onto a keen sense of his own aloneness, he admitted a dread of stagnation and a willingness to be "a feather in the wind." He has plans to convert a school bus into a tiny home and hit the road, taking his camera with him.
"Maybe I'll be a nomad," he said.
Jourdan Christopher's photography show at Haley House Bakery Cafe will begin with an opening reception at 6 p.m. on Fri., Feb. 21, and remain on display through the summer months. Beer and wine will be available at the 21+ reception. For more information about Strangers in Boston, visit jochristopher.com.

Get the Dorchester Reporter— the paper of record for Boston's largest and most diverse neighborhood—delivered to your door for just $30 per year.
That's 52 weeks of the Dorchester Reporter delivered by USPS for just $30.
Support our brand of community journalism AND get the print edition delivered to your door each week— the best deal in town!
Click here to submit your order with PayPal:
Or call 617-436-1222.