By Daniel Sheehan, Reporter Staff
May 7, 2020
Like other high school seniors across the commonwealth, members of the 2020 graduating class at Boston Arts Academy in Fields Corner are missing out on their prom, senior class trips, senior recitals, and an in-person graduation ceremony experience due to the pandemic.
As a way to show support to those seniors, the BAA Foundation has organized a "103 Reasons to Give" fundraiser campaign — named for the 103 graduates-inwaiting — that kicked off with a virtual ceremony last weekend.
Denella Clark, president of the foundation, said the campaign has a goal of raising $200,000, a figure that would go toward student scholarships (96 percent of the graduating class are going on to attend higher education) and also give each graduate a yearbook and a care package valued at $500.
"For our kids to reach this milestone and to not have senior recitals, proms, or any of these other rites of passage is really devastating," said Clark. "We wanted to do this to try to lessen this feeling our students are experiencing."
The campaign was launched on May 2 with a prerecorded virtual ceremony at 7 p.m. featuring music and dance performances by students. The event was held in place of the BAA Honors, an annual fundraising event that was also canceled.
A virtual graduation ceremony is slated for June 8, with Congresswoman Ayanna Pressley and Massachusetts-born fashion designer Ruth Carter delivering commencement remarks. BAA leadership is hoping an in-person celebration will be able to take place in the fall.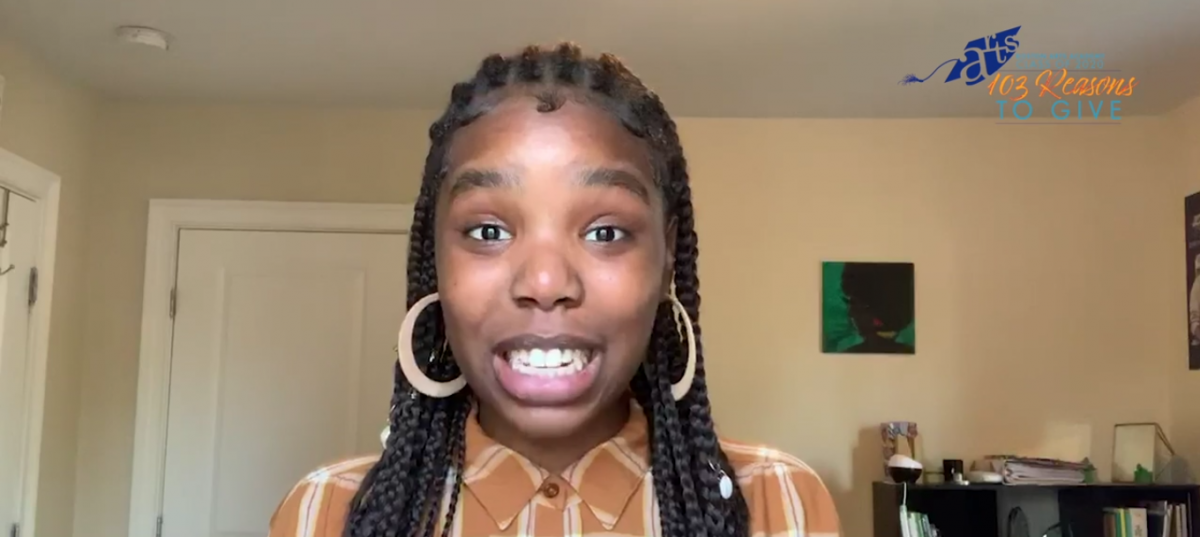 Nalany Guerrier, student body president of the Class of 2020 at Boston Arts Academy, spoke during the virtual fundraiser kickoff.
Nalany Guerrier, student body president of the Class of 2020, called losing their senior spring traditions "heartbreaking. The shift due to coronavirus has been a hard adjustment for the senior class because we had been hoping to share our creativity and show what we've learned.
"Our last year here is so much different from other high schools; we have performances all year long and to not have that culmination, it's been frustrating and annoying. But a lot of us have been practicing our artistic work at home, learning new songs, making little films, so that's been kind of a coping mechanism for us."
A Dorchester resident, Guerrier, who will be studying media arts production at Emerson College in the fall, added that while the situation is unfortunate, her classmates have demonstrated resilience in the face of change and uncertainty.
"One thing we've learned is that we may fall back a bit, but we always get back up," she said. [With] "this experience showing us that we can take our creativity home, we can handle most things."
To register for the "103 Reasons to Give" campaign and for more details about tomorrow night's kickoff event, visit https://bostonartsacademy.org/givetobaa.