By Darragh Murphy
November 11, 2020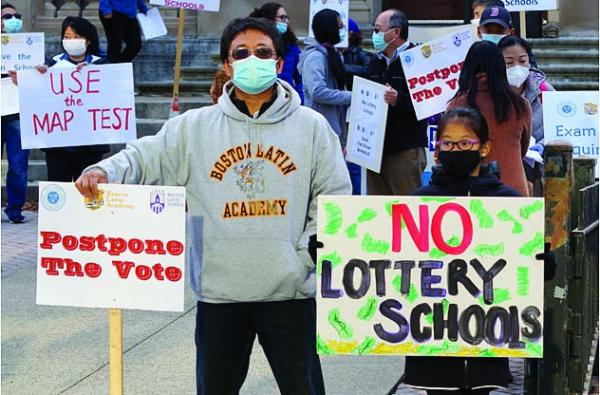 In its attempt to increase diversity at Boston Latin School, the new BPS admission policy that cancels an exam school entrance test in favor of awarding seats based on winner and loser zip codes sails dangerously close to constitutionally prohibited racial discrimination.
The city almost certainly will find itself defending this disastrous policy in court if it persists in denying seats at exam schools to qualified sixth and eighth graders from Boston because of their race or ZIP code.
The new policy is both blatantly unfair to all academically accomplished children in Boston, of every race and background, and specifically discriminatory to Asian students. But the constitutional vulnerability of this racial-proxy scheme is not the only serious problem with the new policy.
There is a fundamental fairness issue that will have a political impact on our blissfully disengaged mayor and city councillors. Mayor Walsh and our district and at-large councillors simply cannot continue to act as if Charlestown and Chinatown and West Roxbury are dirty words, as if each and every child and family in those neighborhoods is not as important and valuable to our city as the children and families from every other neighborhood.
And, as always, the real tragedy is that all this disruption imposed on our sixth and eighth grade families and schools by our mayor and city council is designed to hide the real crisis that we have allowed to grow more dire with every passing year – that the mostly Black and Latinx kids in our Boston public elementary schools are being failed by our leaders and administrators.
Since the days of the slow-motion busing catastrophe began in the 1970s, the Boston Public Schools have been establishing themselves as failure factories for all our children. In the 15 years between 1975 and 1990, more than 55,000 children left our public school system, with thousands of Black families streaming through the exits provided by METCO and Milton and Randolph public schools.
More thousands off-ramped to Catholic schools (my classrooms at Saint Ann's School in Dorchester in the '70s had 36 children each with one mighty nun presiding). The Charter School explosion of the 90's sealed the deal: BPS became the school choice of last resort for almost every family, Black/white/Asian/Latinx, without even the slightest commitment to high educational standards.
The Boston Public School system has been in crisis for decades. Forty-seven sixth graders at the Young Achievers School of Science and Math applied to an exam school last year, and fewer than five were admitted. That is heartbreaking and inexcusable.
Eighty-three percent of the sixth graders at the Sarah Greenwood School in Dorchester failed the English and Math portions of the MCAS last year. Nearly 70 percent of the kids at the Umana in Eastie did not pass MCAS math or English last year. At the Martin Luther King School, 93 percent of sixth graders failed Math and 71 percent failed English. Dearborn: 93 percent failed Math and 67 percent failed English.
It goes on and on and on. A litany of failure that becomes numbing when looked at in spreadsheets as percentages, but that must always be understood as snapshots of real, live, individual children who are being passed along, ignored, through a public school system that will deliver them to the adult world in six short years almost completely unprepared to compete or succeed in any career, from retail store manager to brain surgeon.
We are telling them, silently but clearly: Kids, you might as well throw in the towel right now and just forget about it. You're going to be poor forever.
And now, with this race-proxy ZIP code policy, the mayor has given non-profit social justice organizations that answer to their donors – not our city's voters – free rein to paper over the city's own educational failures by devising a racist admission policy that puts a W next to Black and Latinx zip codes and an L on Asian and white ZIP codes. This is the case because it makes the leaders look good, not because any academic progress has been achieved, and not because these children being pushed into exam schools they are mostly not prepared for will have a chance to excel. They won't. The city has put zero academic support systems in place at the exam schools for academically under-prepared new students.
All of this upheaval and disruption to families of every race and background is being imposed by the mayor and city council for the simple, ugly, and venal reason of political expediency. Michelle Wu and Andrea Campbell want to be mayor. Marty Walsh wants to be mayor again or, if the rumors are true, he wants the NAACP's stamp of approval to advance to the political big leagues at the national level in the Biden administration. And our district and at-large councillors just want to be left alone to run for re-election with zero friction and fuss.
It is immoral and just plain wrong to force the daughters and sons of West Roxbury and Chinatown to pay the debt owed by the city to the daughters and sons of Mattapan and East Boston. To have children pay for the city's failures with something as precious as their educations makes it that much worse. This is not a thorny moral question with no simple answers. The answer is easy and clear: This race-proxy ZIP code policy is wrong.
Darragh Murphy is a Dorchester resident.