By Bill Forry, Editor
March 16, 2020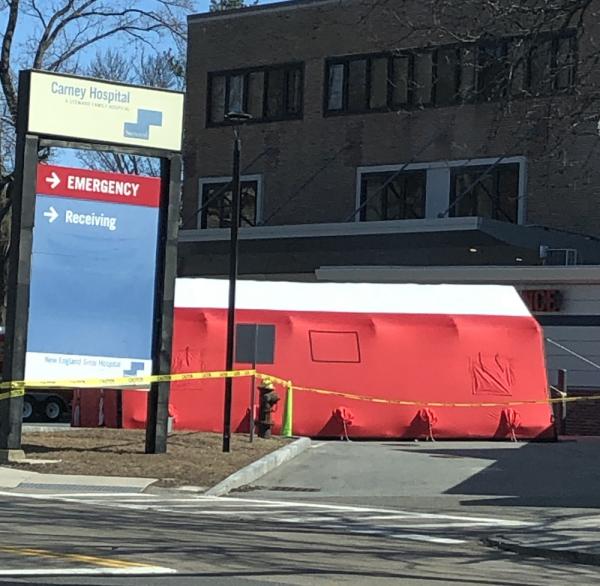 Tent is not meant for 'walk-in' testing, says spokesman
A tent that has been erected outside of Carney Hospital's emergency department today is for future outpatient lab screenings associated with the COVID-19 outbreak.
Nicholas Puleo, a spokesman for Steward Health Care— which owns Carney— said today that the tent is not "a walk-in center for coronavirus testing."
Puleo told the Reporter on Monday that "as of today— 3.16.20— there have been no confirmed COVID-19 cases at Carney Hospital."
In a statement to the Reporter, Puelo wrote:
"As part of our emergency preparations for the novel coronavirus (COVID-19), Carney Hospital is setting up a tent to accommodate future outpatient laboratory screening.
1. We are setting up this tent to increase our capacity to collect samples next week, if needed.
2. Patients who may be tested here must have a LABORATORY ORDER FROM THEIR PHYSICIAN."
Puelo added that "Patients should contact their primary care physician office should they suspect they have been infected."
If someone:
· Has fever, cough, shortness of breath
· Has traveled recently
· Has been in close contact with someone with a confirmed case of COVID-19 or is in quarantine call your doctor FIRST.
Last week, Carney announced a series of new restrictions in preparation for the CONVID-19 spread in Boston, including the prohibition of visitors 12-and-under to see patients admitted to hospital rooms.
-Developing story-