By Ed Forry, Reporter Staff
August 14, 2020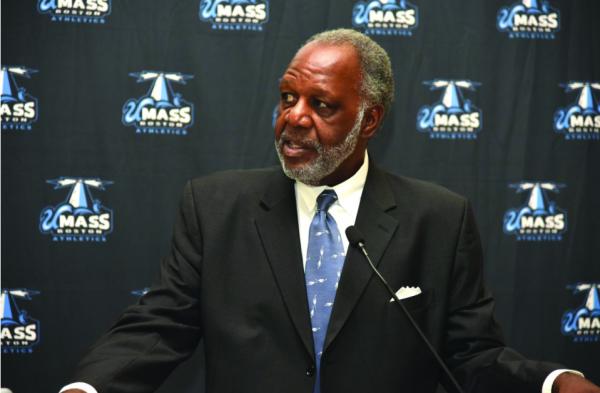 Tuesday, June 30, 2020, was the day that Charlie Titus returned to his post at UMass Boston for the last time. Since 1973, he had served in a variety of roles on the Harbor campus, and on his retirement day he was the vice chancellor for the Division of Athletics, Recreation, Special Projects and Programs.
In a tribute, UMass Boston's acting Chancellor Katherine Newman said,
"Charlie has been the face of UMass Boston athletics for nearly all of those years. Under his tutelage … the Beacons have become a force to be reckoned with in NCAA Division III. He built an athletics program that regularly fields teams that now dominate many of the sports in the Little East Conference, one of the top D-III conferences in the country. In recent years alone, UMass Boston has sent two baseball teams to the World Series, a men's hockey team to the Frozen Four, and the women's volleyball teams have more championship rings than the Patriots. In 2018, the Women's Track team won the indoor and outdoor DIII National Championship. During Charlie's tenure, the Beacons have claimed seven national titles.
"UMass Boston has benefited from Charlie's many contributions and his reputation as a local legend in the New England sports community. The first UMass Boston men's basketball coach in 1974, Charlie led the Beacons on the court for 40 years. In 1980, he added the title of athletic director, and in 2004 became vice chancellor for the Division of Athletics and Recreation, Special Projects and Programs. In addition, in 1984 he called the first meeting of a select group of New England universities that led to the founding of the Little East Conference, and in 2012 he was in the inaugural class to be inducted into its Hall of Fame."
Charlie Titus's career, indeed, much of his life, was spent here in Dorchester. Born in Roxbury, he lived for ten years with his family in the housing project at Columbia Point before returning to Roxbury. He attended the Dever School on Columbia Point and went to high school at Boston Tech, where he played varsity basketball. His skills on the court led to a scholarship to Saint Michael's College in Winooski, Vermont, where he was a four-year varsity player. Summer vacations were spent working as a counselor at ABCD, the city's anti-poverty agency, and after college he worked full time running ABCD's summer job program.
It was during those years that he took a part-time job as men's basketball coach at UMass Boston, a move that began his long career at the campus on Columbia Point just a few hundred yards from his boyhood home.
Recently, in his first month in retirement, the Reporter's Ed Forry spoke with Titus by phone as he prepared to go out for a day of golf:
Q. How many years were you at UMB?
A. It was 40 years as full time and another six years. So, in total, 46 years.
Q. You spent part of your childhood living in Columbia Point?
A. We were there for ten years, from the time I was four. I was 14 years old, and I was starting to get into trouble and stuff. So my mother said, 'Gotta get out of here,' and she moved us to Roxbury and that changed my life.
Q. In high school at Boston Tech, did you play organized sports?
A. Football was my sport. My freshman year, I broke the fifth metatarsal bone in my foot. I was back before the Thanksgiving game. I played two games and I broke it again. That was in my left foot. My sophomore year, I broke the fifth metatarsal bone in my right foot. And the doctor said you have very big metatarsal bones, and you're just never going to be able to sustain it. So I had to quit football and I started playing basketball seriously my sophomore year.
Q. What position did you play in football?
A. Defensive end. I love to hit people. I love football.
Q. Did you become a football player on the basketball court?
A. Well, my sophomore year, my coach benched me, because, he said, basically you're going to hurt these guys out here. [laughing]. I said to him is it okay if I work out with the JV team to get myself under control. I want to learn how to play, and we'll see what happens. He said okay and I was on the JV team. The next summer I worked my butt off. I played basketball and worked out almost five hours a day. In my senior year I was a starter and I was good enough to get a scholarship to St. Michael's.
Q. Your friends always say you were very tall, even in high school. What was your height then?
A. I was six four in high school. I grew another two inches when I got to college.
Q. What were your thoughts when you first left Boston for Winooski, Vermont?
A. I wanted to come home. My first semester was very, very rough. I mean, it started snowing toward the end of October and when it snowed, it snowed and was cold.
I had my letter for my scholarship, and one of the coach's rule was that you couldn't ski because you can get hurt. I didn't know anything about skiing anyway.
The upperclassmen on the basketball team came and took all the freshmen – there were three of us – and said, 'We're going skiing.' And so I learned how to ski!
But you know, it was a cultural shock for me. I was in an all-white environment. I was in a school that had mostly kids from Connecticut, New Jersey, Massachusetts, and almost all came from fairly well-off families.
There were three Black students my freshman year. My roommate was one; he was the quarterback of the football team when I was on the basketball team. And then we had this guy who was from Nigeria, a junior when I got there; he was the star of the soccer team. And me. That was it.
It was great, and it was interesting. But then for the academics, it worked for me. It was a very nurturing environment on the campus. The professors took time with you. I felt really good relationships with a number of my professors. If I needed some extra help, I would go to their houses to study, have something to eat, hang out with their family, that kind of environment, you know.
Q. You found another home in Winooski?
A. Yeah, I did. And once basketball season started, I was focused on that and got very comfortable. St. Michael's in those days was a really good basketball program. You didn't have Division II, III, and I in those days, you had small college. So we played a really good schedule. We played UMass [Amherst] when Dr. J [Julius Erving] was there. We played Holy Cross. We played Boston College. We played DePaul. We played Jacksonville. We played a lot of really good schools.
Q. You played forward. Were you a scorer or a rebounder?
A. I was a rebounder. We had a bunch of scorers on that team and I didn't have to score, and it wasn't important to me to score. I would get six, eight, ten points a game, but what was important for me was winning. And I think that's what they liked about me; I'd do anything to win.
Q. What kind of seasons did the team have? You were playing tough opponents.
A. My first year we had a really good season. The best game I had that year was against Dartmouth. I think I had 18 points and 10 rebounds – a double double. It was a really good day for me. We went down my sophomore year, we had a good season in my junior year, but in the senior year, we struggled.
My basketball career became very real to me when we played UMass and I played against Dr. J. Everything came into perspective about how could you get to the next level. He was absolutely amazing. You know, it was one thing to watch him play, it was another thing to be on the court with him. And so I felt like I had a great education and I felt like I was preparing to really take on the world.
Q. You took your degree in 1972 and returned to Boston?
A. I had been working with ABCD in the summer during school. So when I graduated, they offered me a full-time job. And I went right to work as the chief monitoring job developer for the summer program, Later, in 1973, I worked for Pat Jones at Lena Park developing a program for youth dealing with recreation, education, and job training, In '75, I got a call from John Drew [at ABCD] and he said, 'I want you to come back. If we don't have a highly accomplished person, we're going to get defunded'… So I said okay, and I went back and ran the program.
Q. It was around this time you began a part-time role with UMass?
A. In 1974, I became the part-time basketball coach at UMass. The chancellor at the time was very progressive and wanted an athletic program. They were still in the downtown campus before they moved to the Columbia Point, and he said 'when we move to the Harbor campus, I'm going to start a sports program right away.'
Q. The original plans for UMass Boston did not include athletics; is that where Kit Clark played a role?
A. There was a plan to save money by not having sports facilities. Catherine Forbes Clark was on the board of trustees at the time, and she said, 'No, we need a sports facility, not only for our students but also for the community at large.' So she saved the building right there. That's how it got built, and it opened in 1980.
In 1979, the chancellor asked me to be a consultant with finishing the work at the Clark Center. I told him I didn't know anything about building an athletic facility. He said, 'You can read, can't you?' So I left ABCD.
The first time I looked [at the layout] there was just some common sense stuff that just didn't make sense. I'll give you an example: This was an athletic facility and not one shower was above six feet. I'm like, 'Who do you guys think is going to use this facility?'
Q. You became athletic director in 1980, and over the years, you were also the basketball coach, and eventually a vice chancellor.
A. Part of leadership to me is learning about people and giving them the space to do what they do and facilitating their success. That's what I believe. I didn't want to be anybody's boss. But I was fortunate to work with the people I've worked with. And while people give me credit for building a program, there were so many hands in that.
Q. Under your leadership, UMB now has 18 intercollegiate sports programs. What is your favorite memory of your years at UMass Boston?
A. That's a very difficult question. We've had so many magnificent moments I don't know if I can pick one. Going to the Frozen Four with our hockey team about six years ago was an unbelievable experience. We ended up No. 2 in the nation, and we lost the national championship in overtime by a crazy goal. I'll never forget that. The whole experience was just unbelievable.
But getting to a first conference championship in basketball when my son was the point guard – and the most outstanding player in that tournament– is a special moment. You get a chance to coach your son, and he's the most outstanding player. It was just unbelievable.
I could go on and on. There was the group that established the sports leadership program that was my dream and my vision going back 20 years and I worked on it and worked on it. When [J. Keith] Motley finally got to be chancellor, he was interested in it, and other deans got interested in it. And then we did some fundraising and we got $5 million for the program. Last fall was the first class. That's a partnership with the School of Education and the Division of Athletics and Recreation, which is an unusual partnership. You won't find that at a lot of colleges. But I think that was critical. And that was part of what I was able to do as a vice chancellor.
My first trip to Africa, for a sports camp, a basketball camp, and the work that was done in Africa for 20 years is so special to me. The university was supportive of that, and we developed partnerships with universities there. It also gave me a chance to travel throughout the west of Africa.
Ed Forry is the co-founder of the Reporter.