By Katie Trojano, Reporter Staff
March 30, 2020
To those gathering to play sports at the city's parks, Mayor Walsh had this to say last Friday: "That's not social distancing. If this doesn't change, I'm going to start naming locations in the city of Boston so that people know you shouldn't be there."
On Monday, Ryan Woods, the city's Parks and Recreation commissioner, followed up on the mayor's criticism: "We're seeing people playing everything from soccer to basketball, street hockey, and tennis. So, this week we've zip-tied the basketball nets and ordered new signage that will promote social distancing and discourage contact sports. The signage will arrive Tuesday and be installed at our parks throughout the week."
Walsh has been outspoken about his concerns about group sports continuing in recent days. In a press availability on Sunday, he warned, "Our last effort is to lock the parks down, and we don't want to lock them down."
Woods said that the parks remain open for "passive use. Our staff is still emptying trash barrels and continuing upkeep. We're just asking for the public to listen to the mayor's guidelines and keep to social distancing while in the parks."
Play structures are off-limits, and the city has also shut down both municipal golf courses – the William Devine Golf Course at Franklin Park and the George Wright Golf Course in Hyde Park.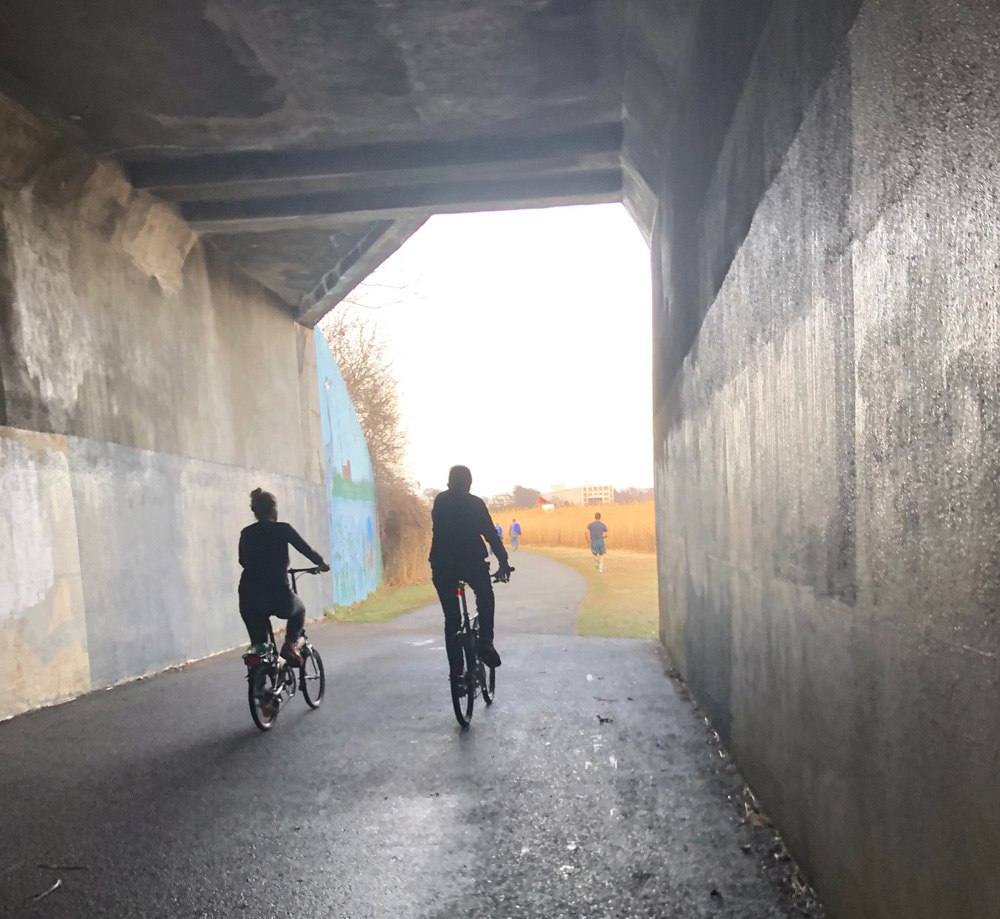 A bike ride or a jog on the Neponset Greenway (above)— at a safe distance from others— is fine. But Mayor Walsh is urging Bostonians to avoid contact sports in city parks. The state has also ordered the closure of playgrounds and ballfields. Bill Forry photo
Walsh has also ordered a citywide halt on construction for the duration of the public health emergency, which means a pause on renovations to Dorchester's Garvey Park and the Downer Ave. playground.
Parks and Recreation employees will continue to pay attention to citywide park construction sites. "We closed up our construction at park and playground sites, but we are still doing preventative maintenance," said Woods. "For example, if there's a dead or dying tree or any other potentially hazardous component at a site, our teams will address that maintenance."
Woods added: "The good thing with Garvey is that it was ahead of schedule because of the mild winter that we had. Before all of this we had expected it would open earlier, maybe by the end of June. This has obviously created some delays and now we're looking at more of an August or September timeline, although we don't know … for sure until the ban is lifted."
He added that before the virus outbreak, Downer Ave. Playground had been slated for completion in late April or early May, but that will now be delayed.
Planning initiatives will also likely see some delays, although, Woods said, "we are exploring some possible virtual meetings to keep things on track," he said, while noting that larger planning efforts— like the Franklin Park Master plan— wouldn't be good candidates for online planning.
The first Franklin Park Master Plan meeting took place in early February, and drew a large crowd of participants to the Devine Memorial Golf Clubhouse. A second planning session originally slated for April has been postponed.
"What we are doing in terms of Franklin Park," said Woods, "is continuing to push out our survey through social media and encouraging people to take it," said Woods. "People can also visit franklinparkmasterplan.com to see more information on the effort."