By Andrea Campbell
June 25, 2020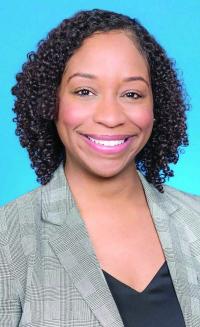 In March, when I subpoenaed the Boston Police Department's field, interrogation, and observation (FIO) data, also known as "stop and frisk" data, broken down by race, I did not know that a few weeks later, Ahmaud Arbery would be hunted down and murdered by two white men in Atlanta. I did not know that Breonna Taylor would be shot eight times by Louisville police executing a warrant on the wrong apartment. I did not know that George Floyd would be murdered by a Minneapolis police officer with a long record of excessive force and harassment complaints. I did not know that these tragic events would prompt a national movement on police reform and lead to one of the most urgent and promising conversations of my lifetime.
But I did not need to witness these murders to know that police departments across the country— including our own — are all in need of reforms to ensure our policing system is more transparent, accountable, diverse, and racially just.
For example, although our department had pledged to release FIO data on an annual basis, it had kept Bostonians in the dark since 2016. What I learned from the data was disturbing but not surprising: in 2019, over 70 percent of stops made by Boston police involved Black residents, though Black Bostonians only make up a quarter of our population. And, over the last three years, the racial disparity in police stops has actually gotten worse. The data confirm what Black residents in Boston already know: that they, along with certain other communities, are disproportionately policed.
Even in my few short years on the City Council, working in partnership with advocates and residents who have been advocating for reforms for decades, I have pushed for the establishment of a civilian review board and full implementation of body cameras for greater accountability and released a report with bold steps to diversify our public safety agencies and eliminate barriers for women and people of color in the hiring and promotional processes.
These efforts were too often met with resistance, dismissed as controversial or impractical, or completely ignored by the administration.
It should not have taken the public, painful murders of Black men and women by police for Boston to not only acknowledge the systemic racism in our policing and criminal justice systems, but also to take real action to transform these systems. The urgency of this moment presents a new opportunity to not merely reform our policing system, but also to completely "reimagine" it.
The City of Boston should take not some, but all of the following actions:
Establish a Civilian Review Board with independence and significant resources and power, unlike the current COOP board, which has only met once in the last year;
Create a public safety data dashboard with relevant information, including traffic stops, stop and frisk, use-of-force, demographics of our public safety agencies and budgetary numbers;
Demilitarize our police by restricting use of chemical crowd control agents like tear gas and kinetic impact weapons like rubber bullets;
Align our use-of-force policies with national standards;
Require racial equity and anti-racism trainings for our entire city government, including law enforcement;
Reallocate at least 10 percent of the Boston Police budget to departments and programs that can more effectively respond to public health crises, support our students and young people, and address root causes of public safety issues, including poverty;
Transform our crisis-response system so that it diverts nonviolent 911 calls away from the Boston Police Department to the appropriate non-law enforcement agencies for a public health and service response;
Remove police from our Boston Public Schools by eliminating the role of school resource officer and repurposing this role for more school counselors, social workers, and nurses; and,
Diversify our public safety agencies by amending civil service in the hiring process and ending discriminatory practices in the promotional process, including ending the use of the controversial hair drug test and promotional exam.
These ideas aren't new, radical or unreasonable. They are steps the city and police department must take to lead nationally in creating a department that is truly transparent, accountable, diverse, and just. It's an opportunity for Boston to show the rest of the nation what can happen when activists, residents, and public servants come together to build a criminal justice system that all of us can be proud of.
Andrea Campbell represents District 4, including parts of Dorchester and Mattapan, on the Boston City Council.