By Jacquinn Sinclair, Special to the Reporter
July 30, 2020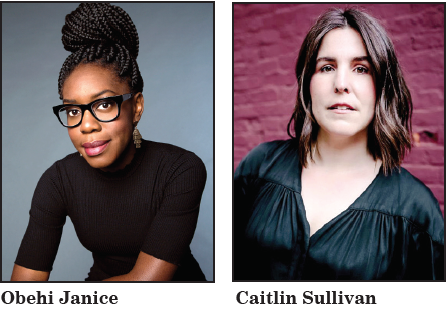 Over the last four years, the actress, comedian, and writer Obehi Janice accidentally wrote a TV pilot. A play that she has been working on during that time, "Ole White Sugah Daddy," is now being adapted for television.
"I didn't know that I was writing a very TV-friendly piece of literature when I wrote the play," said Janice in an interview last week. It's too early for a premiere date, but her work is under development with Big Beach, an indie outfit that brought us last year's "A Beautiful Day in the Neighborhood," "The Farewell," and the popular 2006 film "Little Miss Sunshine."
In "Ole White Sugah Daddy," Lynne Adesuwa Imafidon (Janice) is at a crossroads, struggling at work and in her personal life. The 32-year-old Nigerian American coder has developed a new anti-gentrification app called "Neighbor" — a combination of NextDoor, Facebook, and Citizen — but can't secure investor funding.
The MIT grad is super smart and good at her job, but "her center is off," Janice said. Later, Imafidon encounters an angel investor, a white man who takes an interest in her. "The play takes off from there," said director and collaborator Caitlin Sullivan. A virtual benefit reading of the play was hosted by Aye-Defy last Friday.
The idea for "Ole White Sugah Daddy" was born out of Janice's experiences living in Boston and her interest in technology and gentrification. She was "dealing with so much subtle racism…these little tiny violences [that were happening], both verbally and physically," she explains.
In the play, Imafidon lives in Dorchester and works in Cambridge. The highlighting of Dorchester is part of the reason that Sullivan, a Dorchester native, is so excited about the piece. She was introduced to Janice a little over a year ago through a mutual friend who thought they might work well together. When Sullivan read the script with its mention of Franklin Park and Dot. Ave, she was thrilled that the play highlighted the Boston she grew up in.
Janice felt like she had hit a block as a theater actress, writer and comedian and she was wrestling with feeling both hyper-visible and invisible at the same time. She met women in the tech world who also grappled with racial isolation. These happenings, in tandem with deep research, helped shape the play, which is ultimately the playwright's "take on being a token personally and professionally," said Janice.
The Lowell native currently resides in East Los Angeles. Moving to L.A. was always a goal of hers, she said, but the way that it happened was unplanned.
"I was minding my business in Brooklyn and was hired to write for "Castle Rock "on Hulu. So that's what brought me out to Los Angeles," said Janice. She is looking forward to the TV adaptation because it allows her "to dig deeper into some other themes, like love, identity, impostor syndrome, and Boston as a feeling…an activated space …a city that has deep history."
Sullivan, who now lives in New York, and Janice have developed a deep kinship. They have been collaborating virtually for a while and a lot of the edits, Janice said, "have come from their weekly conversations."
She has been preparing for this moment for a long time. A voracious reader and researcher, she readily rattles off the names of Black directors, authors, and poets whose work she admires: Stella Meghie, Janicza Bravo, Brittney Cooper, adrienne maree brown, and Rita Dove. "Black women's output in art is extremely important to me," she said.
Janice is part of The Kilroys, a radical collective of diverse playwrights, directors, and producers in LA and NYC whose motto is "We Make Trouble and Plays." The group mobilizes others in the field and leverages their power to support one another.
For the last 10 years, Janice has been working in theater. She was part of the 2018-2019 Emerging Writers Group at The Public Theater, a Luminary Artist at the Isabella Stewart Gardner Museum, and a recipient of a TCG Fox Foundation Resident Actor Fellowship.
Her plays include "Selah," "African Tea" as well as the one-woman shows "Fufu & Oreos" and "Casanova." She is the voice of Heather Culbreth, a character on "Dicktown" on FXX's Cake.
Up next is a musical and "Obehi Janice: Casanova," a continuation of the "Casanova" piece she performed at the MFA in Boston in 2018.
Last week, though, Janice and the talented cast of "Ole White Sugah Daddy" were busy prepping for Friday evening's reading. "I consider [it] a really nice gem of a moment. I'm in between a development process that is affirming my love for the stage while also really growing my appreciation for the screen," she said.
Sullivan hopes that the reading "makes people hunger for a full production of it." The moment isn't as big as watching it onstage, but still, said Janice, "I think it's special."
This article was first published by WBUR 90.9FM on July 24. The Reporter and WBUR share content through a media partnership.