By Matt Murphy, State House News Service
January 9, 2020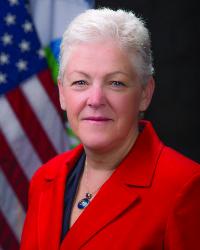 Onetime Dorchester resident and former Environmental Protection Agency administrator Gina McCarthy began a new role on Monday as president of the Natural Resources Defense Council.
The NRDC is a non-profit based in New York City with offices in Washington that works to protect people's access to clean air, water, and healthy communities.
"As I begin my tenure as NRDC's president and CEO today, I see 2020 as the year we jump-start a decade of breakthrough climate action to give our children the future they deserve. There can be no regrets," McCarthy said in a statement released by NRDC on Monday.
Born in Brighton and raised in Dorchester, McCarthy is a UMass Boston graduate who worked as an environmental adviser to multiple governors, including Mitt Romney, Jane Swift and Paul Cellucci. Tapped by President Barack Obama, McCarthy led the EPA from mid-2013 until the start of the Trump administration in 2017.
After leaving the federal government, McCarthy joined Pegasus Capital Advisors, a private equity firm, to focus sustainability and wellness investments, and in 2018 Harvard University turned to her to lead a new Center for Climate, Health and the Global Environment.
NRDC announced McCarthy's hiring as its next president and CEO in November.