By Daniel Sheehan, Reporter Staff
November 19, 2020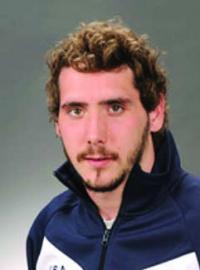 Eight years ago, Dorchester resident Michael Prout captained the US swim team at the 2012 Paralympics in London. Now, he's continuing to pass the baton by helping young swimmers with disabilities chase their goals of one day becoming Paralympians.
Prout was an original employee of Adaptive Sports New England, a Quincy-based organization started by Joe Walsh in 2015 to help youth with disabilities get active and involved in sports. He now coaches daily for a local club team and works with an Adaptive program where "we take athletes that are generally on their club team/high school team during the week and then we give them specialized, individualized training on the weekend.
"During the week maybe they're one of thirty on a team," he said, "and if they're missing a leg or if they can't see or if they have any other disability, what the coach is saying to the group of thirty might not reflect exactly what their capability is or what is going to work best for them. So we're able to take that time one-on-one and work with the athletes to make sure that they're getting the coaching that is going to best suit their abilities and their bodies."
Having been born with a physical disability himself, Prout said he naturally feels inclined to coach younger swimmers through any physical or mental challenges and help them discover their own strengths.
"When I see athletes that have a disability and are struggling or trying to put themselves into an able-bodied environment, I want to be able to help them out, and work with them to let them know they don't have to do things exactly the same way as everybody else; it's still going to be fine. A lot of what we do is trial and error...being open to the process and being willing to fail and just keep trying until we find the thing that works is something that keeps me interested. Every day is something a little bit new."
For the last five years, Prout has trained with 17-year-old Maddie Babcock of Belmont, who is visually impaired and has a goal of competing for the USA at the 2024 Paralympic Games in Paris.
In recent months, the pandemic has restricted access to swimming pools— a tough thing to be taken away from a swimmer, noted Prout. But Babcock has continued her training, thanks in part to an endless pool recently installed in her garage. 
"She's really dedicated herself in the last couple of years to swimming," said Prout, "and so we've started having higher level conversations about preparing, building mentality, knowing this is how you have to be in the pool, and plenty of technique work...The thing about our supplemental training is that we give them something they can use for more than just technique; so much of it is about mental health and physical health, too."
To learn more about Adaptive Sports New England, visit adaptivesportsne.org.