By Daniel Sheehan, Reporter Staff
April 8, 2020
The Boys and Girls Clubs of Dorchester closed its doors last month, but the institution is making sure its important community outreach work is continuing— both virtually and through the odd social distancing-compliant visit.
Deirdre Habershaw, an Ashmont resident and parent of a two-year-old who attends daycare at Boys and Girls Club of Dorchester, said daycare staff paid her family a "drive-by visit" on Monday morning.
"All the daycare teachers coordinated a caravan today to go by the houses of daycare children," explained Habershaw, who said the staff visited at least 30 locations all over Dorchester, South Boston, Milton, and Quincy.
"They sent out a notice last night that they were doing this, so my kids made up signs and went out to see them as they came by," she said. "There were probably at least a dozen cars with teachers and staff who had made up signs as well."
Habershaw said her ten and seven-year-olds, who had also gone through the daycare program, were happy to see the staff, while her two-year-old didn't quite know what to make of the unorthodox visit.
"He was mostly confused. When they left, he said 'They're all gone!' I think he thought they were coming over."
The caravan is just the latest way that the Boys and Girls Club has tried to stay connected with the community during times of social distancing. In recent weeks, the organization has developed a full schedule of virtual programming, regularly posting videos of BGCD staff teaching classes and leading activities--such as sports, dance, art, music, science, baking and yoga--on their YouTube channel.
According to Habershaw, a group of BGCD staff have started filming their own version of The Masked Singer, a popular singing competition game show. In the BGCD format, staff members submit video clips of themselves singing while wearing digital disguises, while the kids vote to decide who moves on to the next round.
"The Boys and Girls Club has been doing so much to try to keep people engaged," said Habershaw. "They started doing the Masked Singer, and the kids are so excited--they want to know who is who and who's getting voted off.
"With the staff members, it's so impressive because a lot of them are, like, kids in their twenties who are just home themselves trying to scrape together something interesting. They also did a cool little video where they spliced everyone together and made a video along to the Golden Girls theme song. They've been doing a lot."
Mary Kinsella, Vice President of Education at BGCD, said she was proud of how the organization has been adjusting on the fly as the COVID-19 crisis has progressed."A lot of the things we're doing are somewhat natural to us, but then there are also things that are out of our realm," she said. "So, we're learning a lot. As I like to say, we're flying this plane as we build it."
Kinsella said Monday's early education initiative of checking in on kids was meant to help maintain some sense of normalcy for the club's youngest members.
"Especially for the little ones, we want all the kids to know that everything's going to be ok," she said. "For some of the younger ones, because of their cognitive development, physically seeing their teachers is important...some of our teaching staff have been taking turns going in [to the club] to video themselves and ensure children, you know, telling them, 'Hi! See, our books are all still here, they're be here when you come back.' Just letting them know that they're not in the buildings, but they're in their thoughts and hearts and make sure they're feeling connected."
Making efforts to replicate that routine is important, said Kinsella, especially for kids with special needs.
"Every family is at risk because stress is high, people are losing their jobs...anything we can do to help support families and establish some sense of routine or schedule, we've been doing that. For children with special needs, for whom this is very difficult because routine and structure are so important to their everyday function, the stress levels are even higher for those families."
In addition to programming, BGCD is also working to "fill in the gaps" by addressing food insecurity and helping families—particularly those for whom English is not their first language—to navigate unemployment and stimulus relief packages.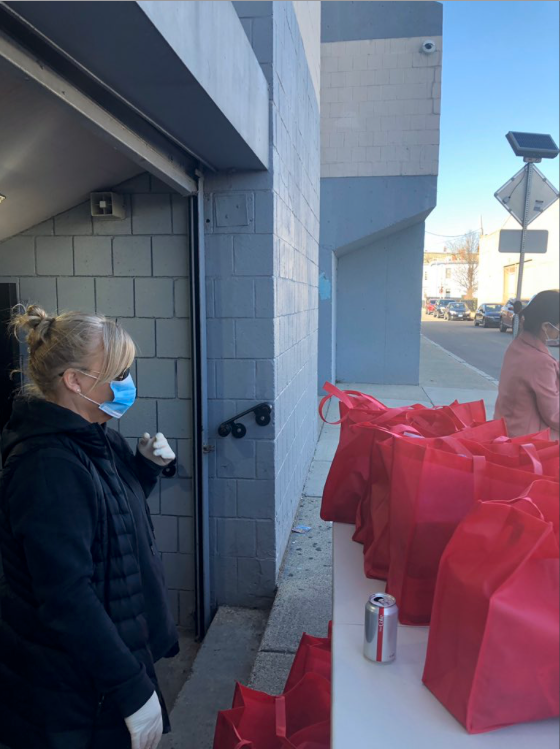 On Friday nights, BGCD has been offering grab and go dinners with "weekend grocery bags" to help families get through the weekend (shown above). And Kinsella said local businesses are pitching in. South Boston's Coppersmith donated pizzas one Friday night, and in the coming weeks families will receive vouchers for ice cream at Chill on Park and Ice Creamsmith.
"Dorchester's so richly diverse that we serve families who are moderate to high income, as well as families who are really struggling, so it's been interesting to see all these families try to come together and help each other out," said Kinsella. "During these times we see leadership bubble up, and I've seen a lot of that in the staff. I'm really proud of everything they've done."