By Daniel Sheehan, Arts and Features Editor
January 30, 2020
At the start of Mayor Martin Walsh's State of the City address on Jan. 7 in Symphony Hall, those in attendance were treated to a soaring, operatic rendition of the national anthem by Jermaine Tulloch, a Dorchester native known across the region for his voice who said it was "an honor" to sing at the mayor's request.
After studying at the Boston Arts Academy and, later, the Longhi Conservatory, he has gone on to perform in a variety of musicals, operas, and gospel concerts in the city, including as the lead in Langston Hughes's "Black Nativity."
Today, Tulloch's stellar reputation as a vocalist is rivaled increasingly by his reputation as the owner and operator of the Family Affair restaurant in Uphams Corner, a comfort food joint that has been slowly winning over folks in the neighborhood since it opened last year in late August.
The restaurant serves up homestyle favorites like meatloaf, oxtail, wings, and 52 styles of chicken and waffles — enough for a different special each week of the year. Current flavors include pineapple upside-down cake, blueberry cheesecake, churro, and Oreo madness, but Tulloch said new flavor combinations are always popping into his imagination.
"I keep a notepad next to my bed with flavor ideas, so if I dream about something or get an idea, I can just wake up and write it down," he said.
One of Tulloch's chicken and waffles creations, topped with churros.

Family Affair lives up to its name in the kitchen, where Tulloch's mother can be found cooking alongside her son, who said that having that motherly touch — and her secret fried chicken recipe — makes the act of sharing their food that much more special.
"For us, comfort food means when you walk in the door, it's like walking into our living room," Tulloch explained. "We want people to feel at home."
That feeling is easy to sense while walking in the door: Gospel music blares from a boombox, while a table strewn with board games encourages guests to idle over their meals. To that end, he said, he plans to involve his neighbors with board game nights, paint nights, and other community events.
Tulloch, who lived in Woonsocket, Rhode Island for several years before moving back to Boston, maintains links with the neighborhood from his time as a music and 4th-grade teacher at the Dever Elementary, Holmes Innovation, and Brooke Charter schools.
"I recognize former students all the time," he said with a laugh. "Some of them even took a little field trip here. It was great to see."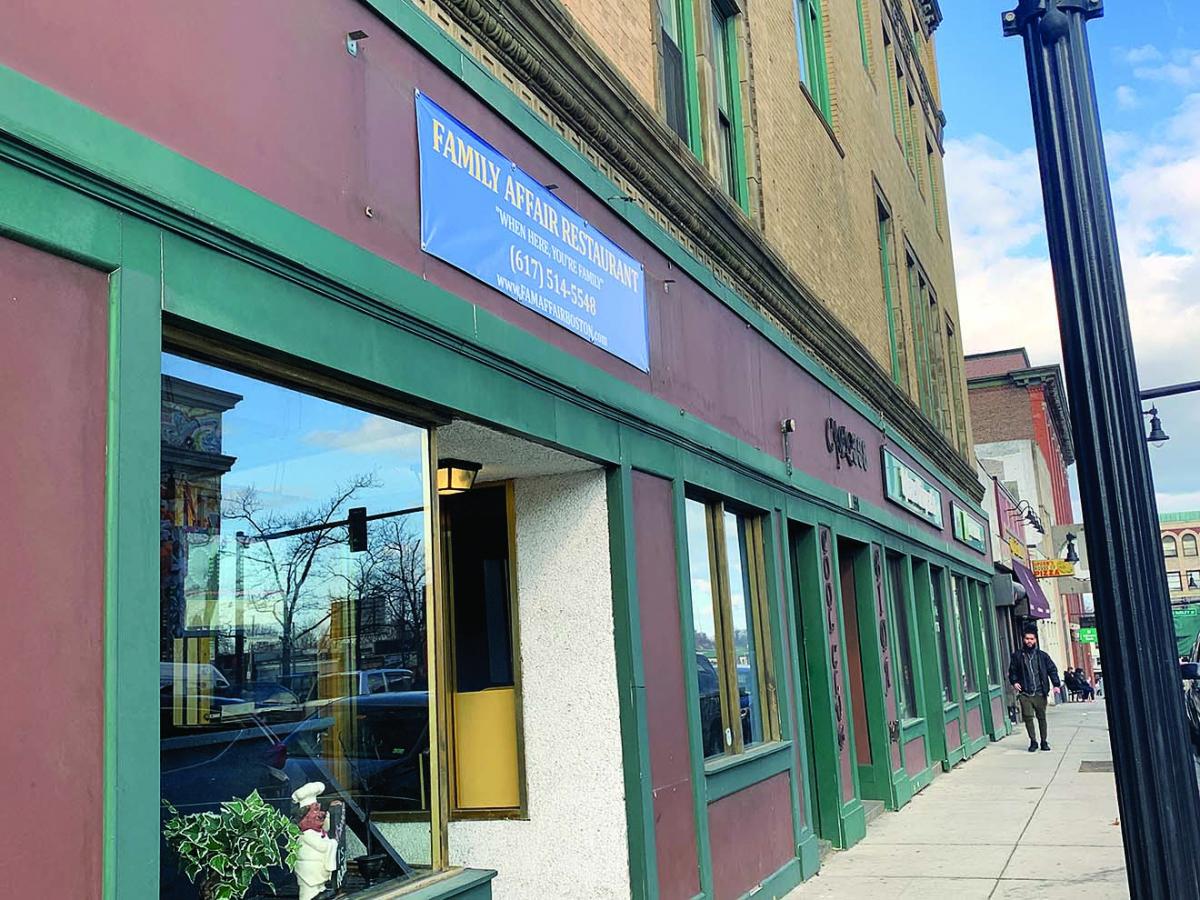 An exterior view of the Uphams Corner eatery.

Over the past few months, Tulloch said he has learned a lot about the food industry. "Running a restaurant is hard. Boston is a pricey city, so it can put you in a deficit before you even open," he said, "but I've learned a lot about marketing and staying new, making sure our social media presence is active."
The challenges of operating the business have also shown Tulloch the extent of his support system, particularly the branch of it from New Life Church in Central Falls, Rhode Island, where he still makes the hour commute each week to serve as music director.
"I've learned that I have a great church family," he said. "They've all come together to support me."
The restaurant often finds itself dealing with large orders, as catering and hosting private events tend to make up a good chunk of business, depending on the month. But those hectic moments of preparing bulk orders are preferable for Tulloch.
"I enjoy cooking because it calms me down," he explained. "Some people get overwhelmed being in the kitchen and having to cook a whole bunch of food. But for me it's soothing."
The folks at Family Affair may soon be even busier. Tulloch is aiming to add a delivery service option. And the next new creation to be added to the menu? Waffle ice cream sandwiches.
Juggling restaurant work and music obligations can be tricky, but Tulloch said he's making the most of it. "This was maybe not life's plan. But it's awesome."