By Katie Trojano, Reporter Staff
February 6, 2020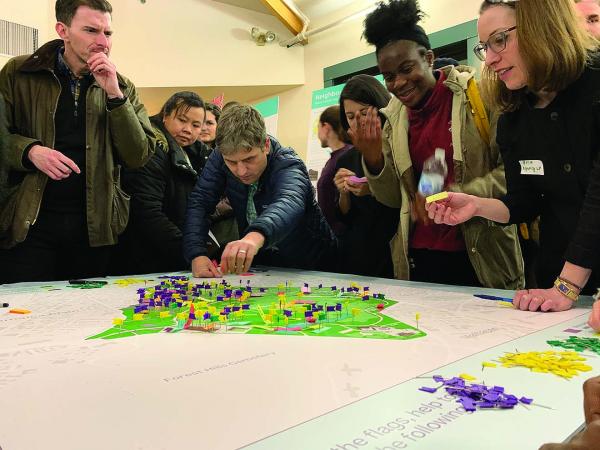 More than 100 people packed into the Devine Memorial Golf Clubhouse at Franklin Park last Thursday evening for the launch of a city-led master planning effort aimed at creating a vision for Boston's largest public space.
After the sale of the Winthrop Square garage, Mayor Martin Walsh last year committed $28 million to the revitalization of Franklin Park. In preparation for this new round of investment, Boston's Parks and Recreation Department is spearheading the master planning process, which is expected to last about 18 months.
The city will partner with a large team of landscape architects, planners, ecologists, and community engagement experts to gather input during a community-driven process. 
The goal, they say, is to understand previous planning efforts, home in on what is and isn't working in the park, and look at the best ways to create connectivity to surrounding neighborhoods.
"There are tons of questions that we'd like to have answered in this process," explained Ryan Woods, commissioner of Boston Parks and Recreation. "Tonight is a science fair approach. You're able to go around and engage with the design team and the staff of Boston Parks to give your feedback. We want to hear what you like, what you don't like, what you want to see programmed, what positive activations do you want to see in the park."
The city recently completed a six-year, $7.25 million project to improve pathways and entrances in Franklin Park, the largest investment in the park since the clubhouse was opened in 1998.
Attendees packed the clubhouse at Franklin Park golf course last week for the launch of a city-led master planning process for the city's largest park. Katie Trojano photo

As part of the new planning process, the team will host community workshops as well as interactive, on-site pop-up activities, surveys, and conversations with the park's neighbors.
Woods said that that survey will be open for public input through the end of March, and that the deadline could be extended if needed. 
Liza Meyer, the chief landscape architect for the Parks and Rec team, said that the agency is collaborating with 14 additional consulting teams in the planning process, including MASS Design Group.
"We didn't come into this master plan process with any preconceived notions about what we're doing," said Lauren Bryant, project manager of the master planning effort. "There's been a lot of talk on social media about things we've already decided to do or not do. None of that's true. We're here to listen and hear your ideas."
Bryant added: "Over decades we've done a lot of planning in Franklin Park and we've asked for a lot of input in a lot of different ways— through master plans, Imagine Boston 2030— and what came out of that is this master plan that we're doing and we actually have capital money behind it, so we will be able to do capital investments from this money," Bryant added.
"We're finally at the point where we can actually implement things," she said. "We're taking all of this information from past planning, but also understanding that things have changed, so we want to talk to everyone now and look at things holistically. This is the kick-off, and we're really excited that so many people are here."
Franklin Park is well used. It is the home of the William Devine Golf Course, the historic Bear Cages, Scarboro Pond, a renowned cross-country running course, the Franklin Park Zoo, White Stadium, playgrounds, miles of trails, and acres of woods and playing fields. It touches on the borders of Dorchester, Mattapan, Roxbury, Jamaica Plain, and Roslindale. Additionally, it has significant historical importance: It was designed by Fredrick Law Olmsted and commissioned in the 1890s to provide city residents more green space in a time of increasing urban density.