By Daniel Sheehan, Reporter Staff
July 2, 2020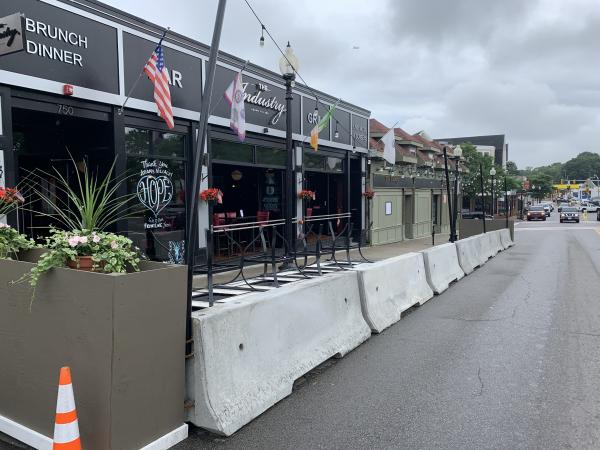 As phase two, part two of plans to reopen the state's economy continued this week, Dorchester eateries continued to make more strides towards recovery while reimagining their dining experiences in light of an still-evolving "new normal."
The Industry in Adams Village is the latest restaurant to take advantage of new city initiatives to make outdoor dining viable along its frontage. A new patio seating area created by reclaiming a sliver of Adams Street beside the restaurant has enough room for eight tables, said owner David Arrowsmith. He thanked City Councillor Frank Baker for assisting with getting the project green-lit.
Arrowsmith added he's "positive" about the coming months, with dine-in eating expected to provide a boost to the robust take-out business that has evolved at the restaurant during the pandemic.
"I think you could say it's been tremendously successful," he said. "We've been very fortunate with to-go foods. We've had great support from the community and since we've reopened the to-go business has carried on. I think we had more to-go orders last night than sit-in patrons."
The Industry has also seen a flurry of orders come in through delivery apps including Caviar, Doordash, and Uber Eats. Ordering at the restaurant is now touchless thanks to cards on each table with a QR code. Customers only need to scan the code with their phones to bring up the menu.
Customers at the Industry can order through a new touchless system.

For now, patrons can reserve tables either inside or on the patio. Hours are 4-10 p.m. from Monday to Friday, per city guidelines, with brunch being served until 4 p.m. on the weekends. 
"It's a different atmosphere," admitted Arrowsmith, who anticipates the return to normalcy will be a gradual process.
"We're just hoping this all passes swiftly," he said. "It's going to be a slow start, being at half capacity and all. But we're looking forward to what the fall brings."
At Dorset Hall in Neponset on Tuesday, a handful of customers were enjoying a rainy lunchtime indoors. Just outside the eatery, what used to be a car lot is now a blacktop packed with picnic tables— a change that has been well received by the community, said staff. 
In Lower Mills on Tuesday, The Ice Creamsmith announced "scooping is back!" as the shop reopened for full menu service at the door, which will be offered Tuesday through Sunday from 3-8 p.m. Customers will also still be able to place orders online for quick pick up of quarts, pints, and sundae fixings. The shop had moved to an online-only ordering system in recent months.