By Daniel Sheehan, Arts and Features Editor
March 5, 2020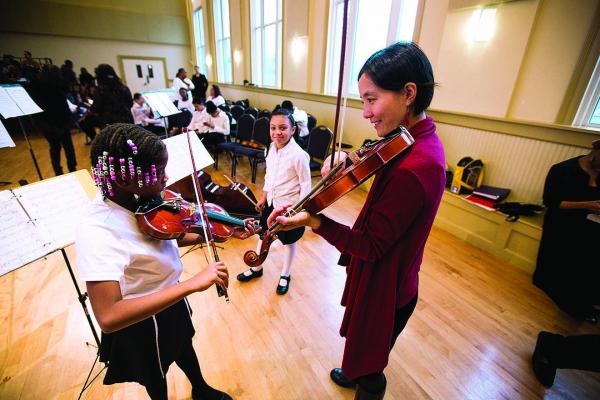 When violist Ashleigh Gordon founded Castle of Our Skins along with composer and pianist Anthony Green in 2013, the Dorchester resident had little idea that the concert and music education series would evolve into the bustling nonprofit it is today. But a hugely successful first concert set the stage for that growth, and Gordon's "innocent" idea of promoting the music of black American composers took flight.
"We hadn't really envisioned something beyond that, but we knew that we were tapping into something that had a bigger need and a bigger purpose," explained Gordon. "So we decided to do another, and another became seven years at this point."
Now an official 501(c)(3) nonprofit, Castle of Our Skins performs regularly around the city as an official Celebrity Series of Boston Neighborhood Artist, amplifying the works of both living and deceased black composers and classical musicians.
Last Saturday, Gordon rehearsed at the Boston Center for the Arts, where the group is currently enjoying a residency, with a string quartet that will perform at a host of upcoming events as part of South End Stringfest.
The Celebrity Series will also bring the quartet to Church of the Holy Spirit in Mattapan for a performance on May 2, where the group was greeted "enthusiastically" at their last performance. Gordon described the group's role as a neighborhood artist as very "family-oriented."
"The idea with neighborhood artists is to try to put local artists, local musicians in various communities to do more than just concerts but to do community building," she explained. In addition to its concert series, Castle of our Skins also engages the community through several educational workshops hosted at Boston Public Library branches and BPS sites across the city, including in Dorchester and Mattapan.

Violist and co-founder of Castle of Our Skins Ashleigh Gordon has grown the concert and educational series into a bustling nonprofit. Robert Torres photo

In one of those workshops, called "A Little History," Gordon tells the story of different figures in black history through original poetry, musical performance on viola, and audience interaction in a one-woman show geared toward grades 4-6. "A Little History" will come to the Grove Hall branch on April 21 at 4 p.m. and the Fields Corner branch on May 12 at 4 p.m.
"Play Songs and Games," a workshop targeted at a slightly younger age group (grades 3-5) explores African-American and Caribbean folk songs in an interactive, sing-and-clap-along format. Gordon recalled a particularly memorable recent workshop at the Codman Square branch in which she led thirty kids of color in song:
"At the end some of the kids were still singing it and asking to do it again," she said. "It was great just to know that aspects of fun and singing, literally just playing together for an hour is still valued. There's still so much meaning behind that for kids, and it doesn't have to be with the computer, it doesn't have to be with anything else but just ears and eyes and your voice."
"Play Songs and Games" will return to the Grove Hall branch on April 4 at 3 p.m.
Castle of our Skins' third workshop, "Build a Modern Day Spiritual," is a more immersive, five-week workshop for grades 4-8 in which participants learn about the African-American tradition of spirituals, the basics of music-making and song writing, and perform their own original composition in a final showcase concert.
The next spiritual workshop will take place on a weekly basis at the Fields Corner branch between April 27 and May 19.
With a busier-than-ever schedule, Castle of Our Skins is poised to grow by adding more part-time positions in the near future, said Gordon, "to make sure we have more literal hands on deck." After that, the nonprofit is eyeing a possible expansion beyond the Boston metropolitan area to pursue programming elsewhere in the region and the East coast.
Looking ahead to the organization's 10th season, Gordon hopes to take on a large project such as a ballet, opera, or full symphonic orchestra concert. Such an ambitious project would ideally accompany a tribute to the group's namesake, said Gordon.
"Our name comes from a poem by Nikki Giovanni, "Poem (for Nina,)" that basically says we're all imprisoned in the castle of our skins, some of us have said,"Great, that castle is going to be my palace, I'm going to love it and fill it with beautiful things.' It would be amazing to create a piece inspired by that poem and have Nikki Giovanni involved in that and do something quite commemorative, quite large with her, as she has been our inspiration all these seven years."
To learn more about Castle of Our Skins and to view a complete schedule of upcoming performances and educational workshops, visit castleskins.org.