By Bill Forry, Editor
March 23, 2020
A second Bostonian has died from illness related to the COVID-19 virus, according to Mayor Martin Walsh, who spoke to reporters outside City Hall on Monday afternoon.
"With each tragic loss, it's a reminder of how dangerous this situation is that we're living in," said Walsh, who did not have details yet on the victim's age or location.
The city of Boston reports that 133 people have either confirmed or presumptive cases of the diseases as of Monday. Walsh said those numbers would go up as testing becomes more widespread. Later on Monday afternoon state officials released new data showing 777 people have tested positive across the state. A total of 8,922 people have been tested as of today, according to the state's Department of Public Health.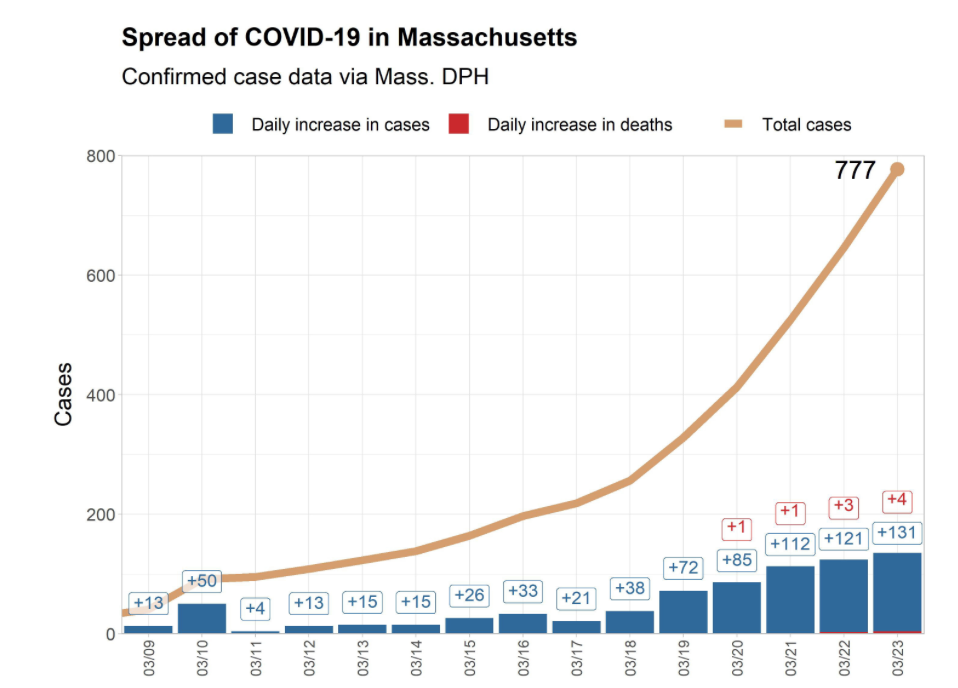 The mayor said he has hired retired four-star Army General Stanley McChrystal to coordinate city COVID-19 efforts, leading a team that Walsh called "the McChrystal Group."
He also urged Bostonians to help the city avoid a larger spike in case numbers by simply staying home.
"The best way to show gratitude to the people on the front lines of this is to stay home— because so many people can't stay home," said the mayor, who thanked health care professionals and first responders for their efforts to help patients. "Physical distancing is the most effective way we have to slow the spread, to keep people healthy and to preserve our medical capacity."
The mayor advised Bostonians to not hoard food or water, noting that markets will remain open when a "stay-at-home" advisory issued by the governor goes into effect tomorrow at noon. Many "non-essential" businesses will close through the statewide directive, but food and liquor stores will not. Restaurants will also be able to operate if they offer take-out or delivery options for customers.
"I want to remind both restaurants and residents to continue practicing social distancing while waiting for take-out," Walsh said. "We're hearing at different points of the day that people are gathering inside restaurants. If you place an order, if you could, stand on the sidewalk and practice social distancing, it's really import. Restaurants, I'd like you to do the same thing— encourage folks to spread out so we're not having people on top of each other."
The city will not be deploying police or other personnel to enforce the governor's order to "stay-at-home," Walsh said.
"Right now it's a common sense thing," he said. "All you have to do is look to Italy and see the number of deaths happening in Italy. We want too prevent that from happening in the United States and Massachusetts and the city of Boston. So, we're asking businesses to do the right thing here."
The mayor said that one Boston police officer and one EMT have tested positive for COVID-19 and are recovering at home. Three more EMTs are under quarantine as a precaution, he said.