By Daniel Sheehan, Reporter Staff
April 9, 2020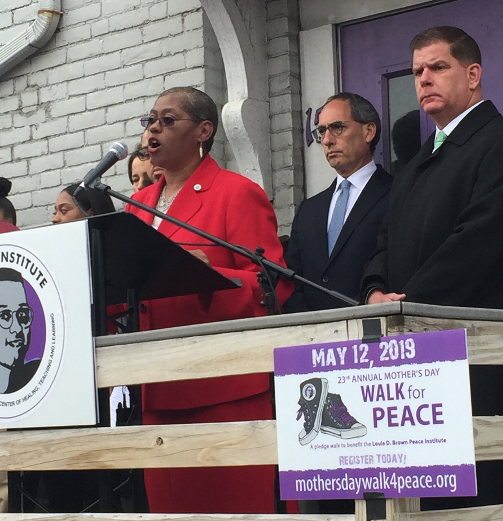 The Louis D. Brown Institute for Peace announced today it will hold a Mother's Day Virtual Walk-a-thon for Peace in place of its annual Walk for Peace event on May 10.
The Fields Corner-based educational and healing center is a crucial asset for families and communities across the city who are working through their responses to homicide. The institute provides important resources, literature, and healing services for those impacted by homicide and helps them navigate grief, trauma, and loss. The center holds a fundraising walk every Mother's Day as a way to honor loved ones who have been murdered.
This year, some of that walking may be done on treadmills: acknowledging that the community won't "be able to gather physically on Mother's Day," the center is asking participants to register and donate online. The institute, which is still operating and providing services during the current shelter in place directive, hopes to reach its $400,000 goal with the help of social media and internet communities.
"The COVID-19 outbreak has impacted all of our daily lives, and for those of us who've experienced murder, trauma, grief, and loss, social distancing can add to an already stressful and overwhelming time," wrote organization founder Tina Chery in a newsletter. "Many of us are feeling isolated and it's more important now than ever that we join together virtually."
Those interested in participating can register as an individual or as a team, make a donation, and become a sponsor at mothersdaywalk4peace.org.