By Elana Aurise, Reporter Staff
June 4, 2020
This is a love letter to my person, whom I found on a train platform in Dorchester when I was 16 years old.
I lived on East Cottage Street in a large yellow three-decker that is hard to miss. My high school – the now-closed Elizabeth Seton Academy – was on Dorchester Avenue in Lower Mills so I took the Ashmont train to classes every day. It was warm outside one day, an indicator that we were near the end of another school year, when I got off the train at JFK to walk home. I regularly saw many friends passing through the T after school, but this was my first time seeing Joe there.
I had met Joe at BC High during a welcome dance for the freshmen. He had hit it off with my girlfriend, and they had started dating. Running into him was a nice surprise because I liked his energy. He's fun and his smile makes you smile, too. Today, he's a psychiatric nurse at MGH who DJ's on the side, so maybe you can imagine what I mean.
Joe and I hugged and I asked where he was coming from. Turns out, he was on his way back from Lids in Downtown Crossing. Fitted hats and BC High boys. Unaware he had a younger brother, I asked him to introduce me to the guy who was with him. Mike didn't say much as he stood there with his fitted hat, blue eyes, blonde hair, and closed-lip smile. He was the opposite of Joe. My instinct was to call him Michael instead of Mike. I did and he never corrected me.
When we met that day, he was a sophomore and I was a junior. After that I ran into him more often at the station, and he would have a little more to say each time. My suspicion has always been that he planned these coincidental run-ins (though I am not sure how) but maybe, just maybe, we were both in the right place at the right time. Maybe the universe had a say in the connection. Whatever. But I was elated when I walked up the stairs and saw him standing there, and disappointed when he wasn't.
It was sort of unheard of at the time for someone like me to be interested in someone younger. It wasn't "cool," and I was considered cool. I remember my girlfriends giving me a hard time about him, but his eyes were a different kind of blue, he had calluses on his hands from baseball, and his demeanor made me forget about high school politics. He wasn't typical in the ways high school guys seemed to be. Quiet and unassuming, he looked me in the eyes and listened when I spoke. He wasn't trying to prove anything. He was smarter than me, but not in a show-off way. He was just Michael Gustin, and I liked the way he saw the world. His wheels were always turning.
I decided that I needed this person in my life, so I put in the work to convince him that he needed me, too. It was almost like we'd met before, in another time and place. I recognized something in him. We called it magnetism, and it was all overly complicated until we both made the choice that it wasn't.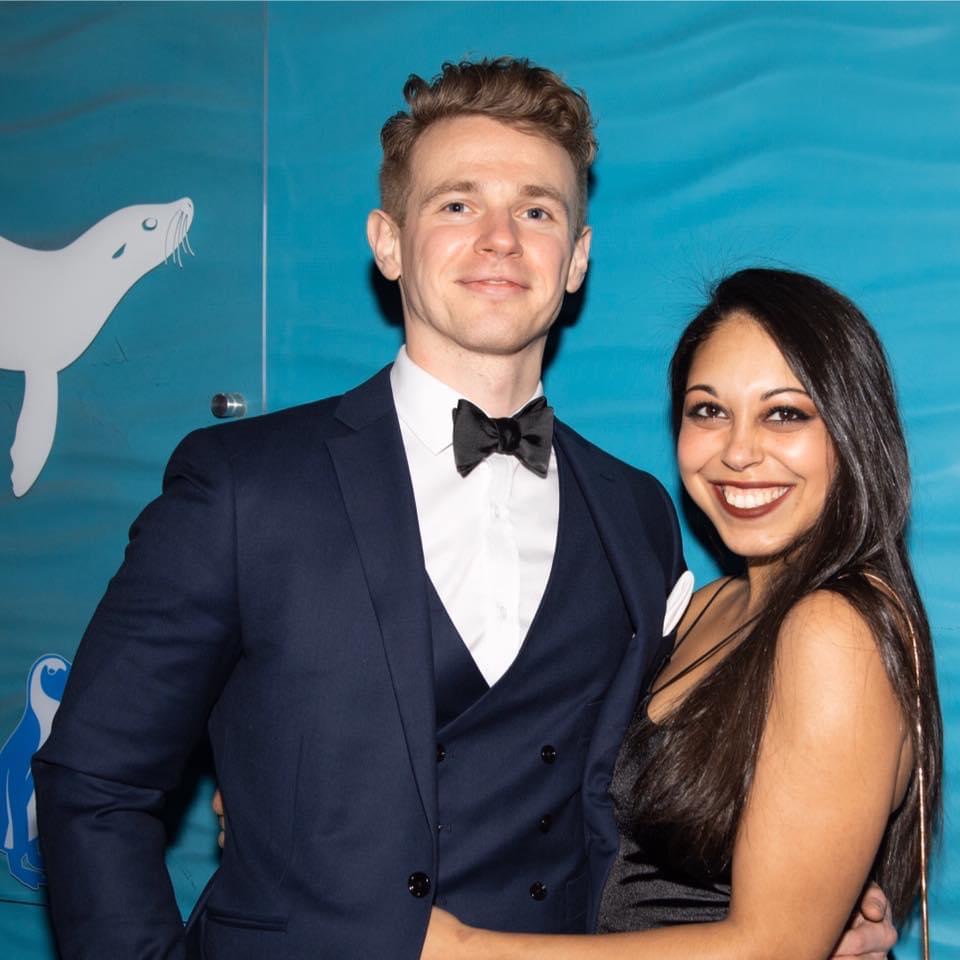 This year, below: The two of us at his medical school formal at the Aquarium last February.

He doesn't wear fitted hats anymore, but his brother still does sometimes. We've been dating for nearly 10 years. He calls me "Lovely Bones" and I call him "Mike" when I'm angry with him. There have been ebbs and flows, highs and lows. We've hurt each other and we've built each other back up; there's strength in all of that. There's power in overcoming. We've learned to forgive, grow together, and push each other to be better.
I've been working at the Reporter for about five years. He just graduated from Boston University School of Medicine. This month, he'll start his surgical residency at the Harvard Combined Orthopaedic Residency Program, and we'll be moving into a condo that we love in Jamaica Plain. We're adopting a dog.
I have a feeling that despite the state of the world as we know it right now, this year together will be our best yet. I have found the person I want to spend my life with, and I look forward to all that's ahead, both the smooth sailing and rough seas.
I still walk through the JFK station every day to get to work. Life is moving on, and we're moving on, but memories like this provide an enduring impact on my life. Dorchester is my home. I found my family here.
Tom Mulvoy – friend first and Reporter editor second – once said to me, "I'm going to read about you two one day."
This one's for you, Tom.