By Daniel Sheehan, Reporter Staff
June 18, 2020
Dorchester business owners took stock of a sunny weather forecast and hurried to prepare for an influx of customers to outdoor dining areas as Phase 2 of reopening the state's economy continued this week.
One standout so far is the Banshee in Savin Hill. After reclaiming part of the Dorchester Avenue sidewalk for tables and umbrellas last Wednesday, the bar/restaurant has seen "phenomenal" support from the community, said owner Ray Butler.
"We're delighted with it," he said. "We had no idea we would get this kind of a response. It's encouraging."
Butler said that seven tables on the patio—spaced six feet apart to accommodate distancing guidelines— can seat a total of 32 people. Customers can make reservations and place orders on the eatery's website or simply walk in.
While the Banshee was not tapped for state grant funds, Butler said the city and licensing board were "outstanding" in helping him through the reopening process. 
"We want to keep it for as long as we can," said Butler of the new outdoor setup. "We're never going to make up the losses incurred since March 16, but we're hoping this is a bit of a light at the end of the tunnel for us."

Street-style dining at the Banshee.

The Baker administration made $5 million in grant funding available to municipalities last week, with Lt. Gov. Karyn Polito explaining that the money is to help cities "quickly launch or expand improvements to sidewalks, curbs, streets, on-street parking spaces, and off-street parking lots in support of public health, safe mobility and renewed commerce.
"This is like the restaurant in your downtown or your Main Street that you might see opening now with outdoor dining in a parking lot or in a parklet or using sidewalks," said Polito. "These funds will be directly available for a municipality to help these businesses create more comfortable and exciting spaces in your community so that people can get out safely and enjoy the offerings at their local establishments."
In Port Norfolk, Venezia and its neighbor, Boston Winery, officially reopened over the weekend, welcoming diners to enjoy Italian cuisine and wine with a view of the Neponset River.
According to a statement from Venezia, "Reservations are required with a maximum of 6 people, face coverings must be worn unless seated for dining, and social distancing is required at all times."
At the winery, tours have been discontinued but hour-long outdoor tastings have resumed, weather permitting. The interior of the winery will be open for restrooms only.
At South Bay shopping center, Wahlburgers reopened after a roughly month-long COVID-related hiatus and is now offering patio dining at a handful of tables in the plaza. A few doors down, 110 Grill has also begun offering patio service for food and drink.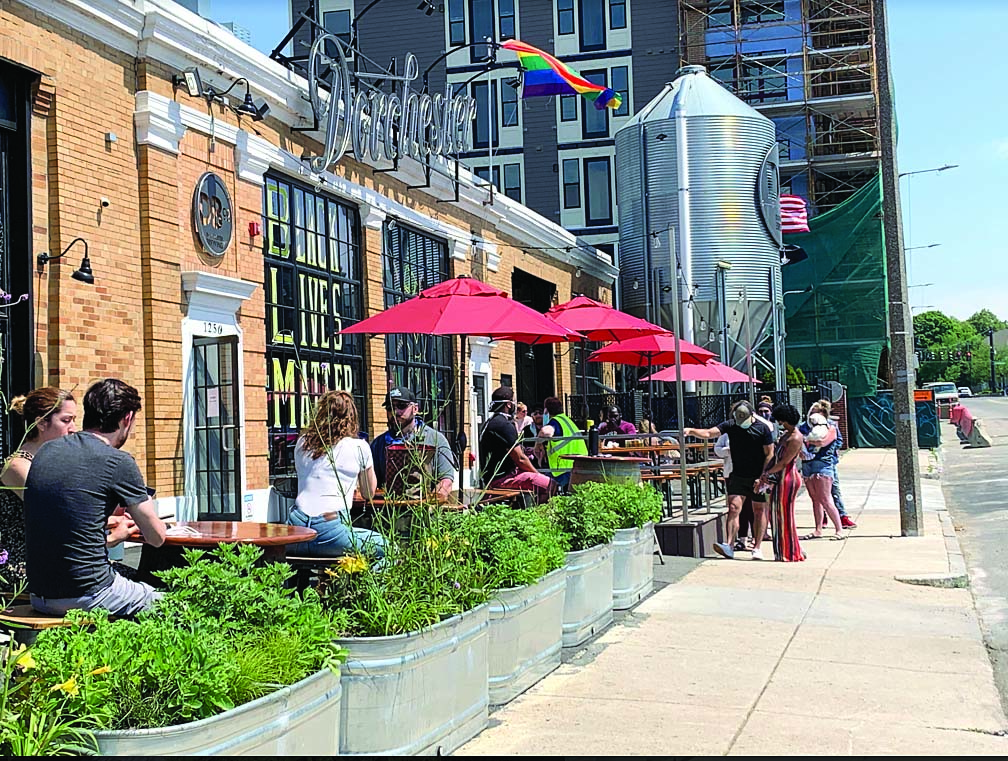 Close by on Mass Ave, Dorchester Brewing Company (DBCo) can point to a bustling patio and roof deck, and a line of customers out the door throughout the weekend.
The brewery announced that it is hiring part-time bussers and door persons in anticipation of more crowded weekend and evening shifts. DBCo directs customers to use a phone-based app to order beer and food from their in-house partners at M&M BBQ.
The Adams Village landmark Eire Pub is another notable addition to the outdoor dining scene this week. The pub has erected a tent and picnic tables at the rear of its building and is serving daily "rain or shine." They are open daily until 9 p.m. and stop serving food at 8:30 p.m.