By Katie Trojano, Reporter Staff
May 20, 2020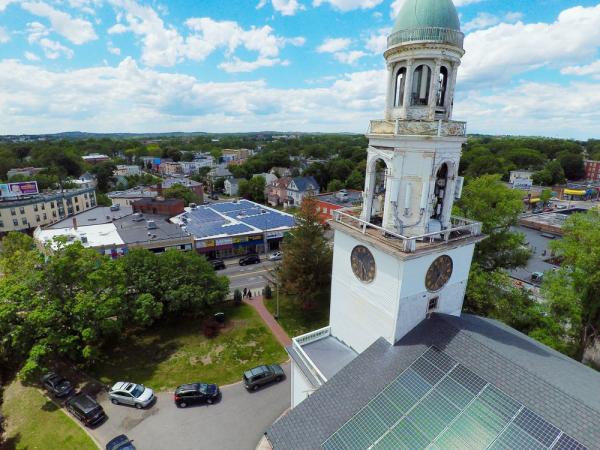 A new park next to Talbot Avenue station, a playground adjacent to the Henderson School, and extensive repairs to the steeple at Codman Square's Second Church lead the latest round of Community Preservation Act grants awarded by the City of Boston.
A total of $24.3 million in CPA funds was approved during a virtual hearing of the City Council's Community Preservation Committee on May 5. In Dorchester, $2.3 million will be distributed to support 40 applications, including six historic preservation and open space projects.
The largest sum – $800,000 – is directed toward the construction of a new park on four parcels of open space on Norwell Street alongside the MBTA's Talbot Avenue station on the Fairmount Line. The next largest figure— $730,000— will support the building of a new, fully accessible playground and school yard at the lower campus of the Henderson Inclusion School (formerly the Woodrow Wilson school) on Alicia Road in Dorchester.
The Second Church in Dorchester, built in 1806, will get $400,000 to restore its steeple, which has been been in worsening condition for decades. The church on Washington Street is one of the oldest wooden churches still standing in the city.
First Parish Dorchester on Meetinghouse Hill, which restored its steeple over the last decade, will also get $20,000 in CPA money to remove and restore a Palladian window.
The Council panel recommended that CPA funds be used to support 40 projects across the city, including: $15.7 million to support nine affordable housing projects; $3.4 million for historic preservation; and $5.1 million for the creation and preservation of recreational use and open space projects.
The open space targets include $250,000 for the creation of a community garden at the Franklin Field Homes, and $150,000 for a community garden in a now-vacant lot on Magnolia Street.
In Mattapan, CPA money will be used to transform a vacant corner lot into the Morton Street Community "food forest" with open space and a community farm. Funds will also go to transform the Chittick Elementary School playlot into a multi-purpose park that serves both the school and neighborhood.
"These historic preservation projects will help keep our communities connected to the rich histories of Dorchester and allow people to continue to gather and enjoy these places," said Councillor Michael Flaherty, who chairs the committee that oversees the funding. "The open space projects will similarly provide the community with places to gather, play, and connect with one another and nature."
Added District 4 Councillor Andrea Campbell: "I am grateful to all the residents and organizations that submitted their creative ideas and am excited to join Councilor Flaherty in moving this next round of CPA projects forward, particularly those that will transform vacant lots in Dorchester and Mattapan into parks, community gardens, and other spaces for community use."
In three rounds of CPA funding, more than $67 million has been awarded to 131 projects spanning every neighborhood in Boston.