By Daniel Sheehan, Reporter Staff
June 10, 2020
A handful of Dorchester restaurants began serving customers outdoors this week as "Phase 2" of Gov. Baker's gradual reopening of the Massachusetts economy got underway. Restaurateurs have greeted the milestone with a mix of excitement and wary optimism.
At the Blarney Stone in Fields Corner, customers returned on Monday for their first chance to eat on the restaurant's popular patio.
"It was slow at first, but it was full by the end of the night," said Noah Ruggles-Lehman, a Blarney Stone manager. "We are thankful to have people back and we're continuing to do take-out and delivery."
Reservations must be called into the Blarney Stone in advance, the menu has been edited down a bit, and patrons can check out the offerings in advance online.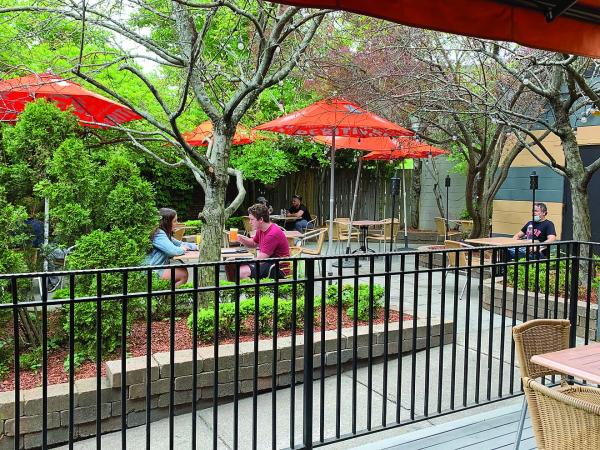 Above, a couple stopped for lunch Tuesday on the patio at Blarney Stone in Fields Corner. Daniel Sheehan photo
Up near Columbia Road, The Banshee on Dorchester Avenue, which continues a brisk take-out trade, was planning to set up tables and chairs on the sidewalk in front of its building on Wednesday. The restaurant received permission from the city of Boston to reclaim several parking spaces along Dorchester Avenue, which will also be utilized, according to co-owner Ray Butler. On Tuesday, it was not yet clear how many people the new set-up could accommodate.
The Banshee also has a small outdoor patio at the rear of its property that will also be used, according to Butler. Reservations must be made in advance by telephone (617-436-9747).
In Lower Mills, The Bowery — home to one of the largest outdoor dining patios in the neighborhood— is "hoping to get open by mid-week this week," said co-owner Mark Standish. 
The restaurant posted a message on its website last week explaining it was ceasing its takeout service operations in order to focus on preparing for reopening.
Standish added: "All tables will be by reservation only through Open Table. We will update our social media accounts once we begin taking reservations."
It is not yet clear whether another Dorchester eatery with outdoor seating, the Ashmont Grill in Peabody Square, will re-open. Co-owner Tara O'Riordan told the Reporter last week – before Baker gave the commonwealth his reopening instructions on Saturday – that the status of the restaurant was still "in limbo."
"There will be some safety guidelines we need to adhere to, to make sure guests and staff are safe and comfortable, and I don't know if we'll be able to do that in two days," she said.
Ashmont Grill has seating capacity in an outdoor courtyard in the rear of the restaurant, and O'Riordan said they're looking into possibly adding seating in the parking lot and in the front plaza adjacent to Peabody Square.
But establishing and ensuring proper COVID-19 safety guidelines – appropriately spaced furniture, designated walkways and entries, new signage, and updated restroom procedures for guests, and sufficient masks, gloves, indoor ventilation, and disposable menus and cutlery for employees – would have to happen before that.
"Until we're confident everyone can be safe, we'll probably take it slow," she said. 
Matt Malloy, CEO of Dorchester Brewing Co., told the Reporter that the brewery will open its outdoor patio to customers on Wednesday at 11:30 a.m.
"We have been preparing for this moment for the last two months," wrote Malloy. "We really thank all the Dorchester residents who have helped us through these tough times. If we are allowed to open on the 8th, we will most likely open two days later to ensure we provide one of the safest outdoor experiences around."
The Mass Ave. beer hall and its partner, M&M BBQ, had remained in operation throughout much of the state's dine-in service ban, offering beer and food for takeout and delivery.
Bars were originally slated to open in Phase 3 of Baker's restart plan but were moved to Phase 4 after administration officials determined that if they do not provide seated food service, they are more akin to nightclubs. Dance clubs and nightclubs aren't allowed to resume operations until Phase 4, which the administration has said will require a vaccine or effective treatment for COVID-19.
Wineries, beer gardens, breweries, and distilleries could all open as of Monday with some restrictions in place if they provide seated food service. Bars with licenses to serve food can also open in Phase 2 under the guidelines. State guidance prohibits seating customers at a bar, but it does allow restaurants to reconfigure the area to accommodate table seating.
On Tuesday, staff at Savin Hill's Harp and Bard were busy preparing to open up their open-air courtyard for dining service.
"We just got approved today," said Maura Galvin, whose father Michael owns the eatery. "We're hoping we can open as soon as tomorrow or later this week. We just have to finish training some of the staff on new safety protocols."
The patio at Harp & Bard on Tuesday. Daniel Sheehan photo

The restaurant made some seating adjustments to the small courtyard to allow proper spacing, reducing the number of tables to four.
But Galvin said despite the alterations, she's "excited to have people here again."
State House News Service reporting contributed to this article.