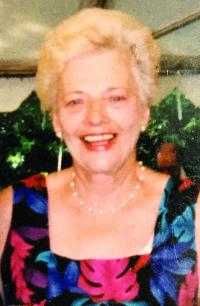 Mary Lorraine Maneikis passed away peacefully at home on August 22, 2020. Daughter of the late Joseph Clougherty and Helen (Quinn) Clougherty. Beloved wife of the late Charles J. Maneikis. Loving mother of Frances and her late husband James (Jocko) Charis of Dennis Port, Charlene and her husband Steve Keady of Canton, Charles and his wife Ellen Maneikis of Dorchester, and Mary Anne and her husband Herbert (Butch) King of Canton. Sister of Richard Clougherty of Lakeland, Florida and the deceased Frances, Helen, Edward, James, Miles, Joseph, Robert, and Albert.
Mary L. also leaves 11 loving grandchildren and 6 cherished great grandchildren as well as many nieces and nephews.
Mama, Mom, Nana, Great Nana, Aunt Lorraine: She responded to each of them and will be remembered by all for her tender, loving heart, and caring spirit. Mary L. was known for her generosity and was generous to a fault, always wanting to make sure whoever she came across was not in need.
She and her husband Chuck raised their family in Saint Mark's Parish. Both were parish fixtures – whether at Mass, carnivals, or parish musicals. Mary L. loved to sing and would do so at the slightest provocation. She is best known for her own rendition of "Frankie and Johnnie!"
Another highlight of her life was packing the family station wagon with neighborhood kids and heading to Tenean or Nantasket. These trips were highlighted by her constant vigilance around water safety. By the water, Nana was always on her guard and saved many lives. She made sure all of her children were strong swimmers. Her love for swimming included years of dedication at the Dorchester YMCA, and many private swimming lessons to the neighborhood kids.
Her professional career featured a decade-long run in the '70s and early '80s at the famous Linda Mae's restaurant in Dorchester. She started out as a waitress, and the owners quickly observed her dedication and impeccable honesty. She quickly rose into the ranks of assistant manager and then manager. At Linda Mae's, Mary L. provided many with their first job.
She loved the restaurant industry and after leaving Linda Mae's, she tried it herself, opening up a wonderful breakfast nook in Saint Mark's Parish called Mary L's! It is here that her generosity and love of cooking flourished. Mary L. was also a highly respected employee of Gerard's and Greenhills Irish Bakery, both in Adams Village.
Above all, Mary Lorraine Maneikis was a loving and proud mother, grandmother, great grandmother, aunt, and, of course, friend. Her lifelong other "sisters," Kay Griffin and Ann Provost, were her constant support, and were at the head of the pack of the many that counted themselves as friends, including the loving residents at Keystone Apartments.
Due to the ongoing health crisis, visitation and interment will be private. In lieu of flowers, donations in her memory may be made to Saint Martin de Porres Parish (formerly Saint Ann and Saint Brendan). A Mass celebrating Mary L.'s life will be held at a later date.