By Colin A. Young, State House News Service
April 7, 2020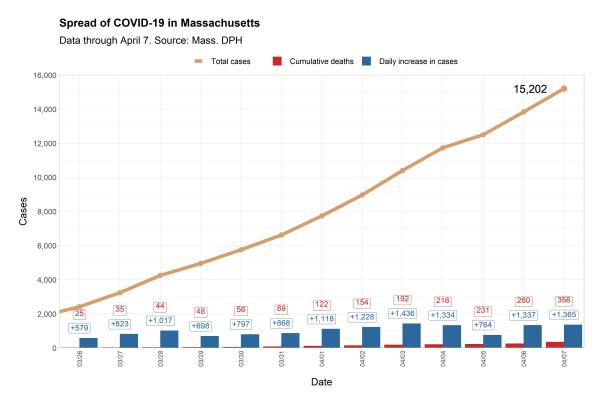 The number of COVID-19 fatalities in Massachusetts surged upwards Tuesday as the state reported the deaths of 96 residents and the number of confirmed cases in the Bay State surpassed 15,000.
The 96 deaths reported Tuesday is nearly three times as many as had been reported in a single day up until this point, though the state noted that Tuesday's daily update "reflect[s] deaths occurring over the weekend and the past 24 hours." The state had already reported 24 deaths on Saturday and 15 deaths Sunday.
So far, the highly-contagious coronavirus has claimed the lives of 356 people in Massachusetts. By comparison, there were 262 firearm deaths in the state throughout 2017, according to the U.S. Centers for Disease Control.
The Department of Public Health said Tuesday that there are now 15,202 confirmed cases of COVID-19 in Massachusetts, an increase of 1,365 or about 9.8 percent from Monday. Between midday Monday and midday Tuesday, an additional 4,915 new tests were conducted. A grand total of 81,344 residents have been tested.
Nearly 1,000 of the state's COVID-19 cases are among residents or employees at long-term care facilities. DPH reported Tuesday that 958 residents or workers had tested positive and that COVID-19 has been detected at 129 long-term care facilities around the state.
With the expected surge in COVID-19 patients requiring hospitalization hitting as soon as Friday, the state on Tuesday issued guidance to help providers make the grim choice about which patients to prioritize if resources won't allow for the same level of care for all patients, advising the doctors treat the young and most likely to survive first.
The governor announced Tuesday a plan to invest another $800 million in the state's health care industry -- supplementing $840 million in previously announced assistance -- as the state works to bulk up its front line of defense against the forthcoming surge.
State lawmakers and a panel of economists had planned hold a virtual roundtable to begin to understand the full economic impact of the coronavirus pandemic, but technological bugs sank that plan. Instead, state budget managers will regroup for the roundtable next Tuesday.