By Daniel Sheehan, Reporter Staff
November 19, 2020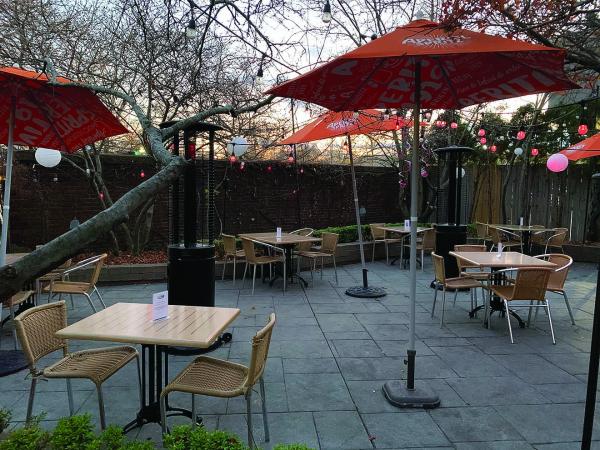 As temperatures continue to drop and the holiday season approaches, some local restaurateurs are offering to cook Thanksgiving dinner themselves as part of a takeout special catering to folks social distancing at home.
The Blarney Stone in Fields Corner is offering to "set your dining room table" with "Thanksgiving to-go," a four-person family dinner complete with herb roasted boneless turkey breast, gravy, mashed potatoes, cranberry sauce, homemade stuffing, carrots, green beans, maple sweet potatoes, and apple crumble, all for $125. To order call 617-436-8223 by 1 p.m. next Monday, Nov. 23.
In Peabody Square, Ashmont Grill and Tavolo are each offering a range of Thanksgiving and family holiday meals and sides for pickup. Ashmont Grill has A Home Oyster Kit, trays of mac and cheese, and carrot cake on the menu (email your order to tara@ashmontgrill by Sun., November 22; pickup Wed., November 25 4-6 p.m.) while Tavolo is offering artisinal meat and cheese boards, lasagna, meatballs, and tiramisu (email your order to eat@tavolopizza.com by Sat., Nov. 21; Pick up Wed. Nov. 25).
•••
In Adams Corner, The Industry is taking Thanksgiving dinner reservations with limited availability. A three-course meal will be available to adults for $39 and $17 for children, along with a selected menu of suggested wines and cocktails. Reservations must be made online through Opentable.
Where things are at along the Avenue

A quick jaunt up and down Dot Ave. revealed a handful of outdoor patios, some of them cobbled together with city assistance just a matter of months ago, and all of them empty. While the city extended outdoor dining allowances through the end of the year, inviting patrons to enjoy their meals or beverages outdoors in freezing weather is a hard sell.
"We have our heat lamps set up out there, but not too many takers," said Noah Ruggles-Lehman, a manager at the Blarney Stone, gesturing out the window on Monday. He said the restaurant is bracing for the worst, anticipating the possibility of another citywide indoor shutdown in the weeks after Thanksgiving.
A bit farther down the avenue, a makeshift seating area outside of El Barrio Mexican Grill sat similarly vacant. An employee said they were grateful for the city's assistance in setting it up, but that few customers have chosen outdoor dining in recent weeks.
Charlie's House of Pizza remains boarded up following a fire earlier this month. Daniel Sheehan photo

To the south, Lower Mills Tavern owner Brian O'Donnell is calling it quits on his eatery's outdoor dining set up. "We are closing the outside 'patio' area we were using on the weekends, graciously donated to us by Duffy Roofing for as long as we needed the space," wrote O'Donnell.
"Lower Mills Tavern will remain open for the winter and recently expanded hours to open for lunch service. We also launched a vegan ghost kitchen concept called "Stalk" available for on-line platforms only by Executive Chef Cara Nance being executed out of the Lower Mills Tavern kitchen. 
"Don't get me wrong," he wrote. "It's been a very stressful and challenging time for the restaurant as a business, but I'm thankful for the continued support of the neighborhood through take out or dine-in, whichever they prefer."
•••
Tri Seafood, a Chinese/Vietnamese eatery in Fields Corner, has closed its doors after increased financial pressure driven by the coronavirus. Owner Nhu Ho, who operated both Tri Seafood and Bait to Plate restaurant, said she was forced to close one of them after her husband passed away a few months ago and the streams of customers subsided.
"Business is very slow now with the coronavirus," she said. "I can only do one."
Nhu added she was "worried" about the coming winter months, indicating she was looking into city relief programs, so far to no avail.
•••
In Uphams Corner, Family Affair Restaurant, a comfort food outlet that opened with promise just last fall, has announced an indefinite hiatus. 
"We are so filled with gratitude for all of the continued love you have shown us since our opening," wrote mother and son co-owners Hulda and Jermaine Tulloch in a Facebook post earlier this month. "As we all know, this year has been a roller coaster ride, with a side of bumper cars, and a dash of tilt-a-whirl. We have decided to temporarily suspend service for the winter. We will still have pop-ups, and offer our catering service."
Family Affair is offering to cater your Thanksgiving with a wide menu of barbecue, sides, and sweets. Orders must be placed through email at famaffairboston@gmail.com before Sun., Nov. 22.
•••
Home.stead Bakery & Cafe, a neighborhood favorite that closed its doors early on in the pandemic, remains closed for the foreseeable future.