By Julie Rackauskas, Special to the Reporter
June 3, 2020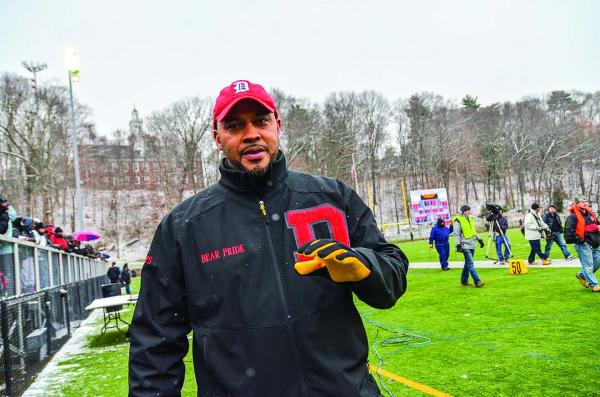 On the steps of TechBoston Academy, candles burned brightly. Black and gold balloons (forever a Steelers fan!) danced in the wind while fireworks erupted over Roberts Playground, and a vibrant life was celebrated. Students, faculty, and community members joined together to honor a wondrous man so full of love that the universe conspired to name him accordingly.
Keith Love was born to break the mold.
RELATED: Keith Love, TechBoston Academy leader, dies at 52
I first met Mr. Love in the summer of 2009, as we were preparing for the upcoming school year. I was new to TechBoston. While walking through the building on a blazing July day, I turned a corner to find a group of high school boys lifting boxes, pushing carts, and earnestly following the leadership of a charismatic man who appeared larger than life in both stature and presence. They hung onto his every word, and they jumped at the chance to show up to school all summer long to toil in manual labor with one of their school administrators. Soon enough, I would understand why.
Tanisha Milton, an 8th grade civics teacher, described Mr. Love perfectly: "His love was deep. Divine. Different. I lost my dad three years ago and I knew that I couldn't make it. I wanted to give up! Mr. Love dedicated a whole day for me as I grieved. It was called Purple Day- my favorite color. He made staff and students wear purple. All throughout the day, he flooded my email and cell phone with pictures and kind messages from staff and students. I will never forget that."
When I reached out to my colleagues and students for their memorable "Mr. Love" stories, there was one sentiment that echoed repeatedly through every text, email, and phone call I received: He had a way of making you feel like you were the only person that mattered. At this very moment, students and staff are probably smiling while they recall their special bond with him. Maybe he gave them one of his famous nicknames, delivered his meaningful "What do you need from me?" or teased them about their sports team's loss that week. He had a genuine and uncanny knack for remembering personal details that made each individual feel valued and connected to him, and it built a beautiful foundation for our TechBoston community.
Jocelyn Sammy, Class of 2020, spoke to that connection: "Mr. Love brought us together when we needed it the most. He was always the lovable, courageous, funny, charming guy who put smiles on the faces of thousands of students. He was the support that people didn't have, the father figure that children needed. To see how many people he impacted really touched me. He believed in me when I didn't even believe in myself."
Sammy is heading to Lesley University in the fall and credits much of her success to Mr. Love. She'll be pursuing a career working with youth, following in his footsteps. Her classmate, Dominique Hart '20, agreed with Sammy's description.
"He wasn't just one of the headmasters to us. He was our smile in the morning, our dance for the day. He was an amazing man with an amazing personality."
School Counselor Jessica Descartes wrote of Mr. Love's deliberate efforts to bond with each and every student. "​He was a constant presence in the TechBoston SEI cluster, which serves diverse English Language Learners. He practiced phrases in different languages and judged gingerbread house contests. Mr. Love was continually learning about their cultures to strengthen his relationships with them."
Joe Theriault, a program director at TechBoston, reflected on the recent car parade that was organized in front of Mr. Love's house as he battled cancer in his last week.
"I waved along more than 200 cars at my post that day. The theme for the day was 'Showing Love Some Love.'
Looking back, he probably wasn't up for that event. He had just lost his mother. We were in the middle of a worldwide pandemic. His health was fragile. He found strength to pick himself up because he knew that his community needed to see him, to show him love. The ultimate sacrifice from an inspiring leader. But that's just Mr. Love."
I could fill this entire edition with "Mr. Love" stories from students, staff, family, and community. If you had met him, you'd know. You have your own story. His legacy will reign supremely throughout the hallways of TechBoston Academy. We will miss his voice booming "Show me some love, show me some love!" over our loudspeaker, but now he will be the voice inside of our students' hearts that encourages them to dig deeper, try harder, stand up against injustice, and fight for a life you deserve.
We will miss you deeply, Keith. Thank you for showing us the true meaning of Love.
Julie Rackauskas is a teacher at TechBoston Academy.