By Katie Trojano, Reporter Staff
May 13, 2020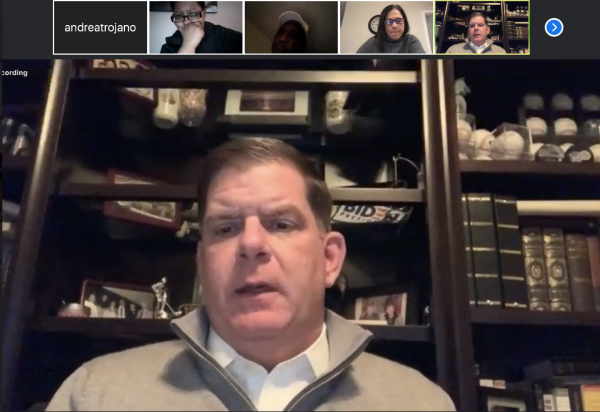 Mayor Martin Walsh told Dorchester civic leaders on Monday evening that re-opening businesses and other activities "too quickly" would be a "big mistake," even as statistics show a slight reduction in positive test cases citywide. The mayor participated in a video chat along with members from three community groups— Dorchester Unified Neighborhoods, Redefining our Community (ROC), and the West Selden St. & Vicinity Neighborhood Association.
Walsh's comments came a few hours after Gov. Baker had laid out a four-phase plan for gradually "re-opening" Massachusetts. The first phase — targeted to begin on May 18—would apply to businesses that are best able to limit person-to-person contacts.
"I would rather open slowly and steady and I'm trying to encourage the state to do the same," Walsh said. "Once you open up, I don't think you can afford to shut back down. I'm resisting opening too quickly and I think that that would be a big mistake."
Construction would be one of the first industries to reopen, Walsh said. "We're looking at… opening up hospital, school, and road construction in the city on the 19th. And as of now, planning on opening all construction in the city on the 27th with really strong safety protocols in place, including temperature checks, testing, and contact tracing."
The mayor said that some of that Boston's neighborhoods have seen some reductions in positive testing in the last week.
"The two neighborhoods where we saw the biggest reductions are East Boston, which had a 19 percent reduction, and Mattapan, down by 15 percent. We currently have 20 testing sites in the city, several of those in Mattapan and Dorchester. We have more tests coming and want to get them out as quickly as we can," he added.
Walsh said that a Health Inequities Task Force he has charged with reviewing available racial and ethnic data among Boston residents and best practices related to the COVID-19 response for black, Latino, Asian, and immigrant populations continues to review information.
Walsh urged residents on the chat to take advantage of the healthcare system, which he said has not been overwhelmed by an influx of COVID-19 patients. About five percent of the city's residents had been tested as of Monday, according to officials. In recent days, the city's positive test rate has gone down slightly, an encouraging sign. In Boston: 11,106 cases, 533 deaths, and 3,327 recoveries.
"In Boston our emergency room capacity is not overflowing, so they're managing the situation well," the mayor said. "If you're not feeling well or have any coronavirus symptoms like shortness of breath, you should… go to an emergency room or testing site."
Several residents on the Zoom call expressed concerns about the situation with summer camps.
"We don't have specific guidance yet," said Walsh. "With summer camps, there's generally one session in July and one in August. I'd be willing to expect that July sessions won't happen. But we are looking at different ways to address that."
As to schools, he said, "We're going to operate under the assumption that we'll open in September, but also knowing that we could see another surge."
Walsh said the city won't cancel its summer job program for BPS students, which annually employs around 11,000 youth, but added, "We may not be able to employ our usual amount of kids, but we'll try our best. We've seen an upswing in shootings recently among our youth in the city. A 17-year-old girl was shot recently in Dorchester. It's vitally important that we do our best to keep summer camps and jobs open in some form."
The mayor reinforced his position on re-opening the city, saying, "The problem with COVID is that it changes week to week. We're now ten weeks in, and we've been shut down for eight. Some messages you've been seeing on TV have been inconsistent and that's not fair," he said. "I am not in a rush to open up our economy, restaurants, and businesses. I don't think we're ready for it as a city, state, or country, quite honestly. We have to do something, but I think it has to be slow."