By Daniel Sheehan, Reporter Staff
April 15, 2020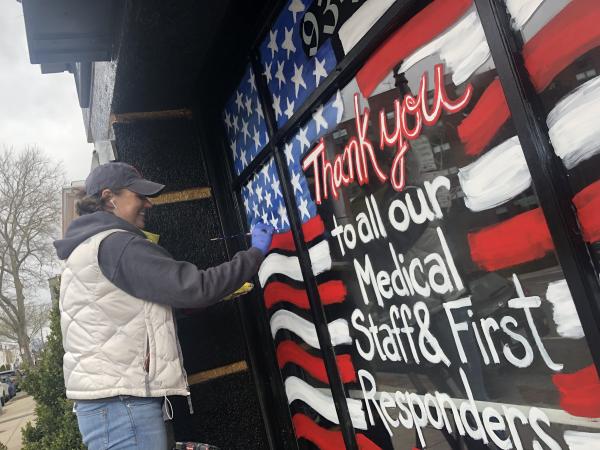 Dorchester's Elizabeth Rouse has been painting storefront windows at businesses in and around Boston for more than a decade. It's a hobby that began one year when a family friend commissioned her to post St. Patrick's Day decorations – nothing crazy, just a written message and some shamrocks – on her storefront windows.
Soon, Rouse was regularly painting Christmas greetings on store facades each holiday season. In the aftermath of the Boston Marathon bombing in 2013, she has been using blue and yellow paint to scrawl messages of "Boston Strong" and Martin Richard's credo, "No more hurting people… Peace," on windowfronts.
Now, in the midst of the coronavirus pandemic, she is using her talents to express gratitude to medical workers and first responders.
If you go by The Banshee, the bar on Dorchester Ave. in Savin Hill, you'll see Rouse's handiwork: The large center window of the establishment has been transformed into a rippling American flag with the words: "Thank you to all our medical staff and first responders" capped off with three letters of local pride: (D-O-T), and a red, white, and blue heart.
Rouse, a Savin Hill native whose father— Richard Rouse— represented the neighborhood in the state Legislature in the 1980s, told the Reporter that personal connections to those on the front lines inspired her to send a message.
"My brother is a first responder. He's a firefighter, and he's a captain in the National Guard who's been activated as a first response unit, so he's been working a lot keeping us all safe," she explained. "My mom is also a nurse practitioner at the VA, and she's still treating patients. Everyone who's in health care is so important...they're the heroes."
City Councillor Annissa Essaibi-George has known about Rouse's artistic gifts for years. So, when she saw an opportunity last week to get creative with the windows at Stitch House, her business on Dot Ave, she knew whom to call.
"I reached out to her and asked could we do a positive message for folks on the front lines, just to express some sort of gratefulness for the work they do," said the councillor.
Days later, the Stitch House window was adorned with the official seals of the Boston Police, Fire, and EMT departments, along with the words "thank you." Said Essaibi-George, who has been splitting her time between city council meetings sewing protective face masks at home: "It's a message of thanks, it's a public display of gratefulness, and it's also uplifting. I would hope that any doctor, nurse, EMT, firefighter, or police officer that drives or walks by feels uplifted, you know, that they don't feel forgotten, and that they're appreciated for the sacrifices they're making every single day."
To learn more about Elizabeth Rouse's work, visit her on Facebook @Windowartbyelizabeth.