By Daniel Sheehan, Reporter Staff
January 21, 2021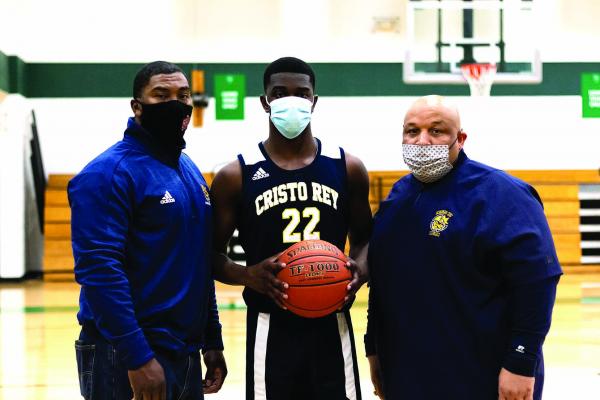 Ray Bosquet, a senior basketball star at Cristo Rey High School, reached a significant milestone last week when he surpassed 1,000 career points in a loss against Austin Prep. 
The 18-year-old from Dorchester has helped put a young Cristo Rey basketball program on the map in recent years with his scoring prowess and style of leading by example, earning two All-Conference nods along the way.
Head coach Larry Merritt, who has coached Bosquet for the last three seasons, described the immense impact he has on those around him while on the court. 
"He makes his teammates approach the game in a much more comfortable manner," explained Merritt. "They feel comfortable knowing Ray's around, and he makes the players around him better. He's a very unselfish basketball player."
Merritt described Bosquet as a slasher and "true three man" who excels at driving to the hoop and finishing at the rim while noting that he's also putting in considerable work on different parts of his game and starting to shoot more from the perimeter to become more of an inside-out player.
"Ray's a kid who, when he decides he wants to score, he can score," said Merritt. "There's no one in the league who can stop him one on one; last year he was facing double teams and triple teams all season. His mentality is either score or get fouled."
Sure enough, a quick look at the tape bears out what Merritt has known since first working with Bosquet as an eighth grader: The kid is unstoppable. In game footage, the 6'3", 200 lb. Bosquet commands the attention of his opponents, even as he makes their defensive efforts seem futile. He has the strength and quickness to glide past defenders with ease, hang in the air, and use an impressive level of body control to adjust mid-air and gracefully lay the ball in. As such, Bosquet leading the team on the score sheet has been a common occurrence over the last few seasons.
He, like Merritt, is acutely aware of his ability."No one in the league can stay in front of me," he told the Reporter in an interview. "I will get to the rim no matter what."
That confidence and determination has translated to a successful career that saw Bosquet pass the 1,000-point mark last Thursday, making him the first player in Cristo Rey history to achieve such a feat. Last year, he led his team to a state semifinal game, the school's first playoff appearance since 2014.
His performances have raised the profile of the Savin Hill-based high school, which is not necessarily known as an athletic powerhouse.
"I'm feeling blessed," said Bosquet on reaching the milestone. "I think it's going to set it off for others who come after me...people didn't really know about Cristo Rey basketball before, but now they do."
Bosquet credited his coach with providing him the keys for success.
"He unlocked something in me to be the best version of me I could. Thank you to Coach Merritt and my teammates for pushing me to be the player I am."
Entering his final season, Bosquet has been accepted to the University of Dayton, Suffolk University, UMass Dartmouth, Curry College, and New England College. He has yet to make a final decision, but plans on playing basketball at the collegiate level.