By Gintautas Dumcius, Managing Editor
September 16, 2021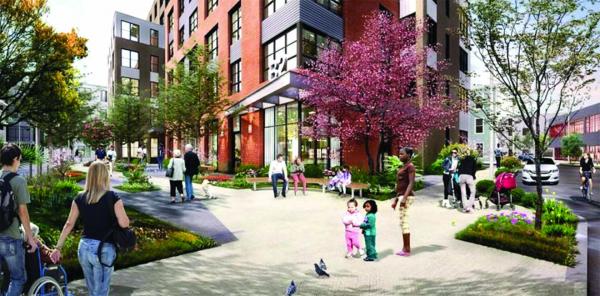 Three new buildings near the South Bay shopping plaza received approval from city planning officials this week. The proposal, known as the "Willow Baker" development was first proposed in January 2020. It came up for discussion at Monday's meeting of the Boston Planning and Development Agency's board of directors.
The site is mostly vacant land, but the development calls for the demolition of several single- and two-family houses on one of the parcels.
Located at 75-78 Willow Ct. and 16 Baker Ct., the project would create 191 new housing units, including 29 income-restricted units, and parking for 46 vehicles.
Overall, the units will be a mix of studios, one-bedroom and two-bedroom units, with some three-bedroom units. Ninety-two will be rentals, while ninety-nine will be condominiums.
The developer behind the projects is going to build a bike-sharing station and bury new utilities underground, while removing old power lines and utility poles, according to the BPDA.
"The project will also contribute to improvements at nearby Sharon's Park, Paul's Park, and Richardson Park, Dot Art for youth programming, as well as the Dorchester Historical Society for programming and preservation in the neighborhood," the agency said in a statement.
Willow Baker LLC and Cornerstone Boston are backing the project, which is close to the Andrew Square Red Line station, the Newmarket commuter rail station, and four MBTA bus routes. Construction is slated to start early next year. Proponents have indicated it is likely to bring in $1 million in annual property taxes.
Separately, planning officials on Monday also signed off on an apartment project off Blue Hill Avenue in Roxbury. That development, located at 4-18 Cheney St., involves a four-story residential building with 74 affordable housing units, including 59 rental units focused on seniors.