By Katie Trojano, Reporter Staff
February 24, 2021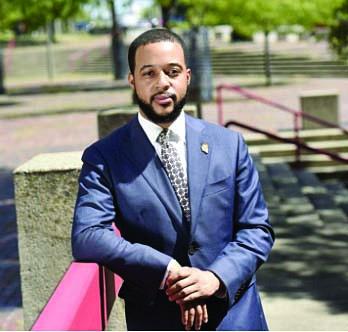 A study that documented the poor record of city-issued contracts for Minority and Women-owned Business Enterprises (MWBE) has prompted a civil rights complaint and new pledges for improvement from Mayor Walsh, just days before his anticipated departure for a cabinet position in the Biden-Harris administration.
The 700-page report, conducted by BBC Research & Consulting for about $1 million, was commissioned by the city in 2018 to assess the demographics of recipients of public contracts under the Walsh administration between 2014 and 2019. The authors surveyed more than 47,000 contracts worth about $2.1 billion, and their findings showed that only 1.2 percent of that contract money went to Black and Latinx-owned businesses and that the city spent less than half a percent, or $9.4 million, with Black-owned businesses. 
Walsh signed an executive order last Thursday that set new goals calling for at least 25 percent MWBE across all contracts awarded in any fiscal year, 11 percent of that for woman-owned businesses, and 6 percent for minority-owned businesses.  
"The recommendations that were set out in the report are lower than what we signed into order today. This is the most structural reform city contracting has had in over a generation," said Walsh.  
"We knew going into the study that the results were not going to be good because we've been talking about this for the last seven years," he added. "But the study gives us a detailed roadmap and a legal tool to attack those inequities at the root."
A day before Walsh signed the executive order, lawyers, citing Title VI of the Civil Rights Act, filed a complaint against the city with the US Department of Justice and the US Department of Transportation, alleging racial disparities in public contracting. The suit was filed on behalf of the Black Economic Council of Massachusetts (BECMA), the Greater Boston Latino Network (GBLN), and Amplify Latinx. 
The complaint says that the city engaged in a pattern of discrimination against Black- and Latinx-owned businesses by maintaining a public procurement system that unlawfully excluded them from equal contracting opportunities. 
"The city needs to set a goal of 40 percent MWBE, and 15 percent needs to go to Black-owned businesses," said Según Idowu, president and CEO of BECMA. "We have to stop being a city that is short-sighted and only thinks about today."
Walsh's order requires tracking and reporting at the departmental level as part of the annual budget process to ensure that the city is advancing procurement goals.  It also creates a Supplier Diversity Program with a $2 million commitment to ensure that city policies are aligned with advancing the goals, and that it will provide technical assistance, business development, training, and mentoring for MWBE businesses.
City Councillor Andrea Campbell, who is running for mayor, said Walsh's action was not strong enough. "Instead of another executive order, we need transformative, systemic change to close the profound racial wealth gap and eradicate inequities that make Boston one of the most unequal cities in the country, and leadership that will hold us accountable to meeting and exceeding our diversity goals," she said in a statement.
"I will be the mayor that acts with urgency and accountability to ensure businesses owned by women and people of color have access not just to doing business with the city," she wrote, "but also the resources, technical assistance, coaching and entrepreneurial networks to grow and thrive." 
City Councillor Annissa Essaibi George, also a candidate for mayor, favors legislative action to make changes to the city's contracting processes.
"The executive order Mayor Walsh put forth yesterday will improve outcomes, but our work cannot stop there," she said. "More tools are needed to change this system that keeps leading to these disparities. I believe that a home rule petition that can make actual legislative changes to the procurement process will lead to better, more equitable results."
The lawsuit could trigger a federal inquiry into how Boston has awarded contracts in past years, according to Erin Fowler, an attorney with Lawyers for Civil Rights.
"From the federal government, we want a formal investigation of the city's contracting practices and community-centered process that would convene all of the complainants and everyone in the MBE community, and secure the city's compliance of the federal civil rights law. This can be voluntary and we fully expect it to be collaborative," Fowler said. "We expect the Janey Administration to comply and voluntarily work with us."
Idowu said that the city's disparity report "revealed what BECMA leaders and community members have been telling them for free for decades. … that a pattern of discrimination exists and that immediate corrective action is needed and has been needed to address these harmful policies."
According to the report, Black-owned businesses accounted for 3.5 percent of those available to undertake prime contracts and 5.6 percent of businesses ready for subcontracting opportunities. But those businesses were awarded only 0.4 percent of prime jobs and 1.6 percent of subcontracting work.