By Gintautas Dumcius, Managing Editor
July 23, 2021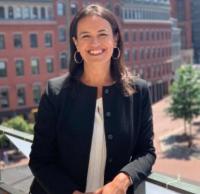 City Councillor At-Large Annissa Essaibi George will appear in the No. 1 slot on the Sept. 14 mayoral preliminary ballot.
City elections officials on Friday pulled candidate names out of a gold tumbler to determine the ballot. State Rep. Jon Santiago will appear on the ballot, since he dropped out after the June deadline for withdrawing names from the ballot.
The ballot order for mayor, at-large, as well as Districts 4, 6, 7, and 9 are available below. There are no preliminary elections for Districts 1, 2, 3, 5, and 8.
MAYORAL
Annissa Essaibi George
Richard Spagnuolo
Andrea Campbell
Kim Janey
Michelle Wu
Jon Santiago
Robert Cappucci
John Barros
AT LARGE
Carla Monteiro
Althea Garrison
Bridget Nee-Walsh
Said Abdikarim
Ruthzee Louijeune
Kelly Bates
David Halbert
Julia Mejia
Roy Owens
Nick Vance
Michael Flaherty
Jon Spillane
James Colimon
Erin Murphy
Donnie Palmer
Alex Gray
Domingos DaRosa
DISTRICT 4
Josette Williams
Troy A. Smith
Joel Richards
Deeqo Jibril
Jacob Urena
William Dickerson III
Brian Worrell
Evandro Carvalho
Leonard Lee
DISTRICT 6
Kendra Hicks
Mary Tamer
Winnie Eke
DISTRICT 7
Roy Owens
Angie Camacho
Joao DePina
Santiago Rivera
Lorraine Wheeler
Marisa Luse
Brandy Brooks
Tania Anderson
DISTRICT 9
Eric Porter
Liz Breadon
Michael Bianchi