By Reporter Staff
June 27, 2021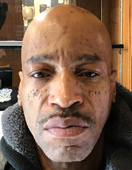 The Boston Police Department report arresting Michael Leoney, 58, of Dorchester, on charges he used a hammer to smash the shin of a senior citizen on Columbia Road at Washington Street on the afternoon of June 20.
Leoney lives at 131 Washington St., about a half block from where the attack took place, according to state records.
Police say they were led to Leoney by tips after WCVB and WBZ aired reports on the attack. He is scheduled for arraignment Monday in Dorchester District Court.
In 1981, Leoney was convicted on a total of two counts of aggravated rape and two counts of rape.
In 2012, he and his brother were arrested on charges they ran a sex-for-hire ringl. He pleaded guilty in 2016 and was sentenced to seven years in state prison, which means he would have been out by last weekend because of credit for time he spent behind bars between his arrest and his plea.